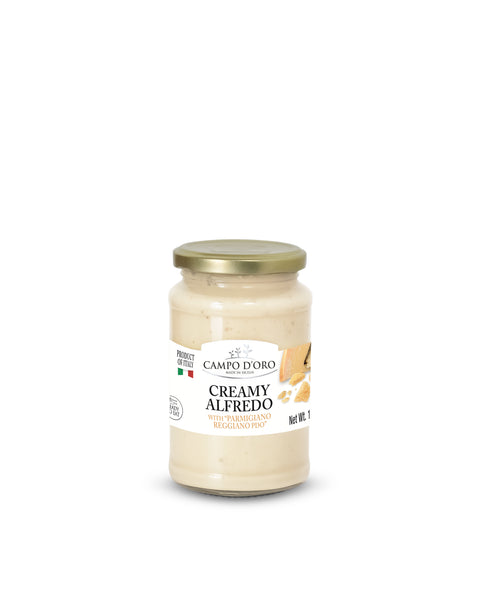 Campo d'Oro
Alfredo Cream Sauce 12.3 Oz
Indulge in the velvety richness of our Alfredo Cream Sauce, a 12.3 Oz jar of pure culinary luxury. This classic sauce is a harmonious blend of cream, butter, and aged Parmesan cheese, crafted to perfection for an irresistibly creamy taste.
Description
Made with the finest ingredients, our Alfredo Cream Sauce is a versatile choice for elevating pasta, chicken, and more. Whether you're creating an elegant Italian dish or simply craving comfort food, our Alfredo Sauce adds a touch of culinary excellence to your meals. Savor the creamy delight - order Alfredo Cream Sauce today and experience the taste of true Italian comfort.
Ingredients
Milk, cream, water, butter, "Parmigiano Reggiano Dop" cheese (milk, rennet, salt), pecorino cheese (sheep milk, rennet, salt), salt, modified corn starch, xanthan gum, black pepper, lactic acid, natural flavor.
CONTAINS: MILK
Shake well before use.
Suggested Use
It's so easy to make, creamy, smooth and absolutely delicious. It's the perfect meal for busy days.
Producer
For over 32 years the Campo d'Oro company has been producing a vast line of preserves, continuing and reinventing a family tradition that has been dedicated to the production of preserves for 2 generations.

Through innovative research and development processes Campo d'Oro tries to produce high quality preserves, designed for healthy and balanced diets with particular attention to traditions and a natural lifestyle.
The company always pays attention the tradition, the details and the freshness of the raw material, respecting people and the environment.

The Mission is the constant specialization in the promotion of the Sicilian culinary tradition with deep conviction and great personality, spreading the Sicilian Taste all over the world.