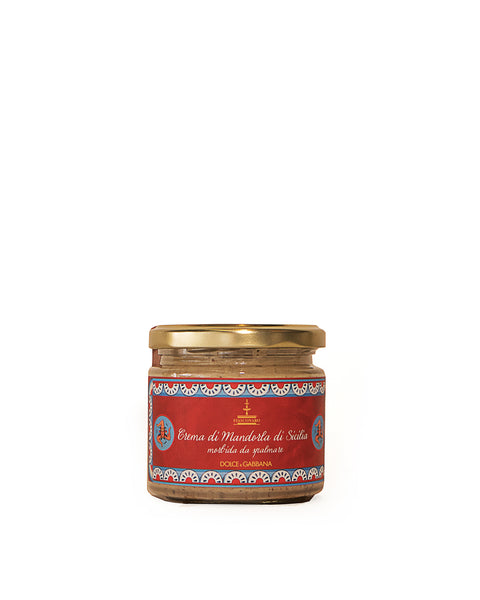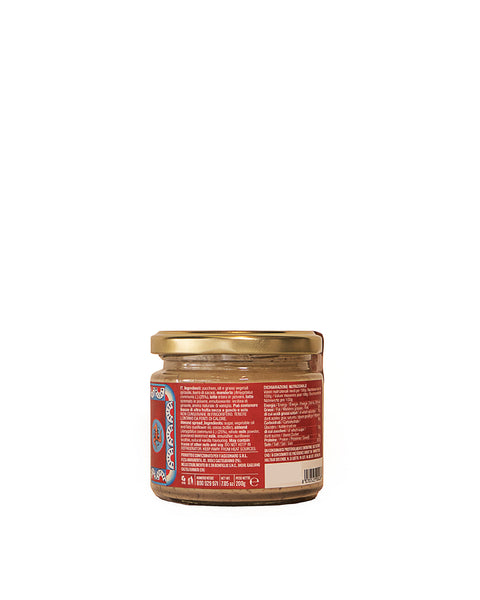 Fiasconaro
Almonds Spread - Dolce&Gabbana 7.06 Oz
Indulge in the epitome of luxury with our Almonds Spread, proudly presented by Dolce&Gabbana in a convenient 7.06 Oz jar . This exquisite spread encapsulates the essence of Italian elegance, combining the rich and creamy flavors of premium almonds into a velvety, mouthwatering delight.
Description
Dolce&Gabbana, renowned for its fashion and style, now brings that same commitment to luxury to your kitchen. Experience the taste of authentic Italian opulence with Almonds Spread. Order now and savor the richness of Dolce&Gabbana.
Ingredients
Sugar, vegetable oil and fats (sunflower oil, cocoa butter), almond (Amygdalus communis L.) (25%), whole milk powder, powdered skimmed milk, emulsifier: sunflowers lecithin, natural vanilla flavouring.
May contain traces of other nuts and soy.
Suggested Use
This Almonds Spread is a versatile choice for your culinary creations. Whether you spread it on fresh bread, use it as a delightful dip, this luxurious spread elevates every dish with a touch of Italian sophistication.
Producer
The Fiasconaro family is a story that begins in the 1950s in Castelbuono, a small town in the Madonie Park in Sicily, and remains in Castelbuono. It's there that the brothers Fausto, Martino and Nicola have chosen to keep the headquarters - the mind and heart - of this exciting adventure of the Sicilian High Pastry.

Their story starts in 1953 with Mario Fiasconaro, who over time from a small ice cream parlor in the main square of the town built a thriving business in the field of pastry and catering.

The three brothers Fausto, Martino and Nicola, little more than children, were helping out in their free time, and they began to learn the business. In the nineties, with the generational change transformed the Fiasconaro brand into a reality known outside the borders of the island.

The turning point comes from an intuition of Nicola, a talented master pastry chef, who chooses to interpret the most traditional dessert of Northern Italy, Panettone, in a Mediterranean key: a great success that changes the destiny of the company, which has not stopped growing since then.

Today, the Fiasconaro brothers are at the head of the company that bears their name: Fausto is the showroom manager, Martino is the head of the administration, Nicola is the award-winning first pastry chef and has received the title of Honorary Citizen from the Municipal Administration of Avola for the role played in recent years as ambassador of Sicilian sweet excellences in the world.

And precisely in the light of his commitment in the social and economic fabric, the President of the Republic Sergio Mattarella has appointed him among the twenty-five Cavalieri del Lavoro (merit for labor) for 2020. An unexpected appointment, but above all an honor, which takes on a profound meaning: not a simple recognition, but an honor that encompasses an entire story. The story of a family. Of