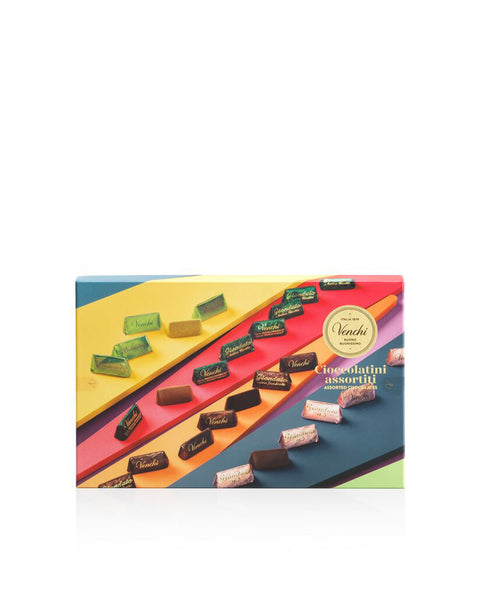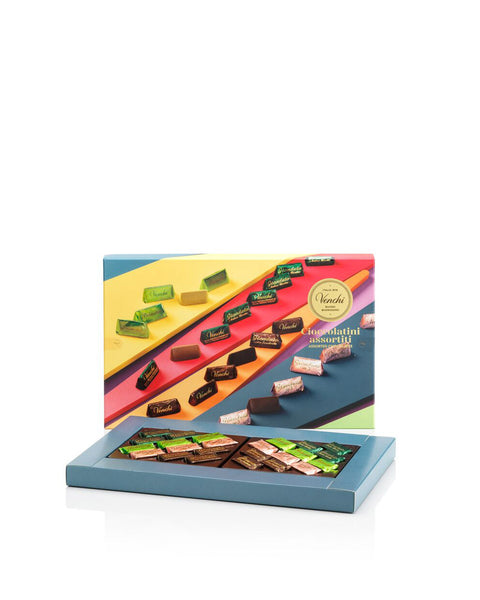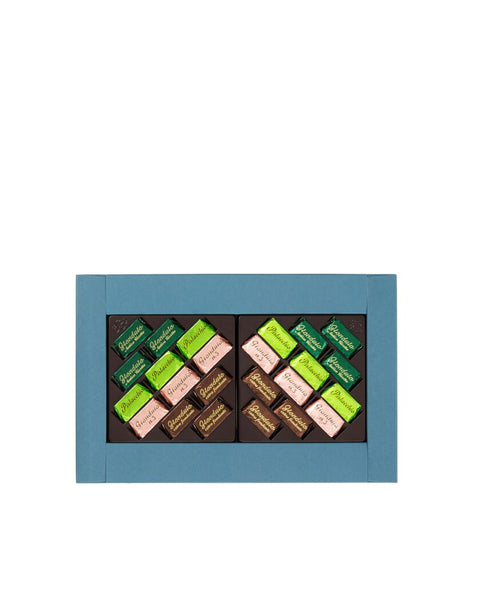 Venchi
Assorted Chocolate Gift Box 7.65 Oz
$45.00
$50.00
you save $5.00
Satisfy your chocolate cravings and indulge in the ultimate chocolate experience with the Assorted Chocolate Gift Box. This beautifully crafted gift box is filled with a variety of high-quality chocolates that are sure to delight your taste buds.
Description
Assorted chocolate in an elegant gift box. An iconic selection, perfect for creamy-textures lovers: Pistachio, creamy chocolate and pistachio in a "gianduiotto" shape, Gianduia n.3 Gianduiotto, prized with the excellence award Tavoletta D'oro 2022, vegan friendly and made with three ingredients only (Gianduja, Piedmont hazelnuts and raw cane sugar), and lastly classic and extra dark Gianduiotti, made exclusively with Piedmont Hazelnut.

Ingredients
Piedmont HAZELNUT paste, Sugar, Cocoa butter, Dark chocolate (cocoa mass, raw sugar, cocoa butter. Cocoa solids: 63.6% min.), Whole MILK powder, PISTACHIO paste, Cocoa mass, Cocoa powder, raw sugar, WHEY powder (from MILK), Emulsifier: SOY lecithin, Anhydrous MILK fat, Salt, Natural vanilla flavor.

CONTAINS / MAY CONTAIN TRACES OF: MILK, SOY, NUTS


Suggested Use
Every time you feel like having a treat!


Producer
Venchi began its production in 1878 with Silviano Venchi, a 20-year-old from Turin who loved chocolate so much he spent all his savings on two bronze cauldrons and began to experiment, first in his apartment, then in a small place on Via degli Artisti in Borgo Vaniglia, Turin.

These experiments were so successful that after some years came Venchi Spa, "the most elegant chocolate shop in Piedmont" named among other things "Purveyor to the Royal Household".

Today, there is no longer the royal coat of arms on the packaging, but the passion, meticulous care and courage to experiment remain. And so it was that all of our imaginatively named chocolates were created: Chocaviar, Truffles, Gianduiotti, Cremini, bars and so on.

All delicious, healthy, natural, made with the best ingredients and the best intentions: to look on the bright side and to live a long happy life that, if nothing else, is a little bit sweeter.
Additional Informations
Our exclusive discount offers up to 70% off products that are approaching their expiration date. The higher the discount, the closer the expiration date may be. For more information about the expiration dates, please reach out to our customer support via chat or send an email to info@magnificofood.com.