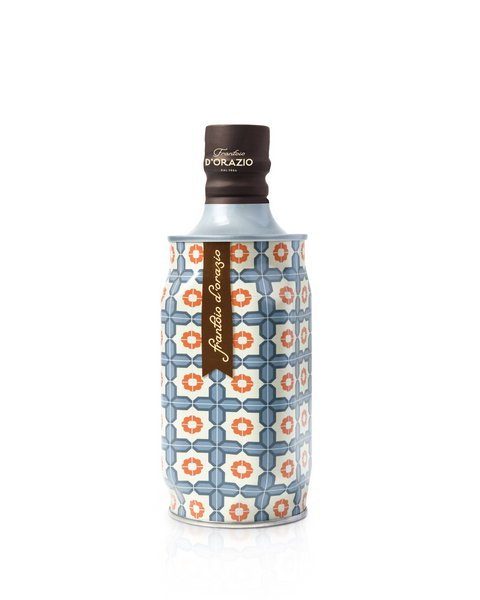 Frantoio D'Orazio
Extra Virgin Olive Oil Iavorra 16.91 Fl Oz
Key Product Features
Savor the pinnacle of excellence with Iavorra Extra Virgin Olive Oil in a 16.91 Fl Oz bottle, proudly crafted by the renowned producer Frantoio d'Orazio. This premium olive oil offers a  delicate, fruity flavor that elevates your dishes while preserving their natural essence.
Description
The beauty of the Conversano region is reflected in this uniquely designed bottle. The texture pays homage to this karstic land, where the wonder of nature has carved numerous sinkholes that, during the rainy seasons, turn into lakes. Iavorra is one of them. Very unique in its appearance, it is bounded by a dry stone wall. Water and stone, steadfastness and mutability, side by side. An extra virgin olive oil from Puglia that brings to the table all the love for its land.
Ingredients
Suggested Use
A subtly fruity oil that enhances the flavor of the food it's added to without overpowering or masking it. Ideal for fresh salads, vegetable purees, rice soups, hearty stews, pasta and beans, artichokes, asparagus, cooked vegetables, white meats, bruschettas, sauces, boiled legumes, oven-roasted tomatoes, and truffle sauce.
Producer
Frantoio D'Orazio is surrounded by centuries-old olive trees and even more ancient peasant traditions. It's a place where the ancient ritual of extracting extra virgin olive oil has been carried out for three generations now. Francesco, like his uncle Peppino and his grandfather before him, carries on the family tradition with dedication to beauty and authentic goodness, in a land where time passes slowly. In a world where nature determines the rhythm of rural life, the annual ritual of harvesting olives is celebrated. Whether they're green, black, small, or large, today, as in the past, we harvest these precious fruits from our countryside with the same dedication and passion for all things good and genuine. The olives we select and process become the premium extra virgin olive oil that offers unforgettable moments of pleasure for the palate.