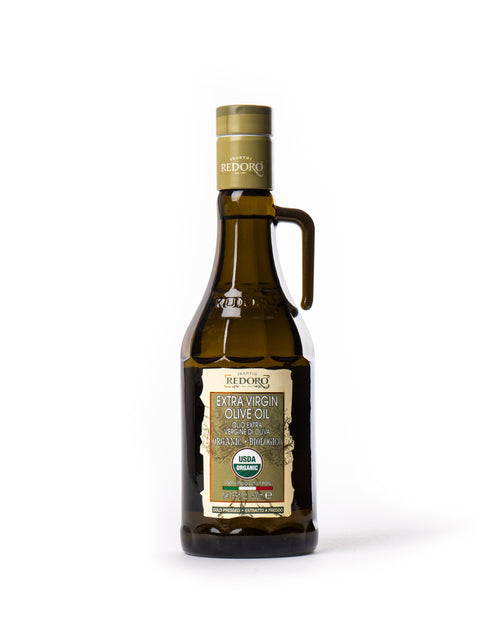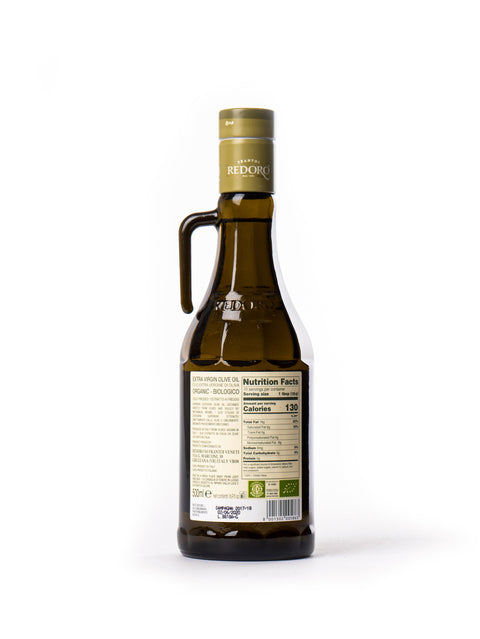 Redoro
Organic Extra Virgin Olive Oil 16.9 Oz
$35.00
$38.00
you save $3.00
Key Product Features
Indulge in the authentic taste of Italy with this premium organic extra virgin olive oil. Made from the highest quality organic olives, this olive oil is cold-pressed to ensure maximum flavor and nutrition. Whether you're using it for cooking or as a finishing oil, this product is the perfect choice for anyone who values quality and taste.
Description
Redoro's Organic Extra Virgin Olive Oil, obtained from organically certified farming, is an oil that is naturally clear with golden reflections. On the palate, it is particularly balanced with just a bit of spiciness and a slight hint of fresh olives. The aroma of this oil is characterized by the balanced scent of fresh vegetables followed by hints of dried fruit and spices.


Ingredients
100% Organic Extra Virgin Olive Oil. Cold Pressed


Suggested Use
Ideal with steamed vegetables and light, healthy meals


Producer
Constituted in 1895 by founders: RE_gina and isi_DORO from which the name REDORO is derived. The Company of handicraft character is linked to tradition, but adapts dynamically to market developments. The passion and secrets to produce REDORO 100% Italian extra-virgin olive oil have been handed down from father to son for over 100 years, marking in the mid-'90s, the switch from local production firm to a national and international company, that brings in every kitchen and on every table worldwide, the passion, the taste and the quality of REDORO's experience.

Despite the great success, the values that guide the company are the same as ancient times: quality, genuineness and love in every small gesture, from the cultivation of the olives, to handpicking until the transformation in extra-virgin oil or delicious products like paté or specialties in oil.

The familiar guide of the company is the most important strength of Salvagno's Family. It's suitable to preserve the tradition and quality of Veneto extra virgin olive oil and it confirms the excellence of the olive oil to give all guarantees to the consumers of the greatest care for the products: from harvest to olive selections, cold pressing and bottling.


Additional Informations
Our exclusive discount offers up to 70% off products that are approaching their expiration date. The higher the discount, the closer the expiration date may be. For more information about the expiration dates, please reach out to our customer support via chat or send an email to info@magnificofood.com.