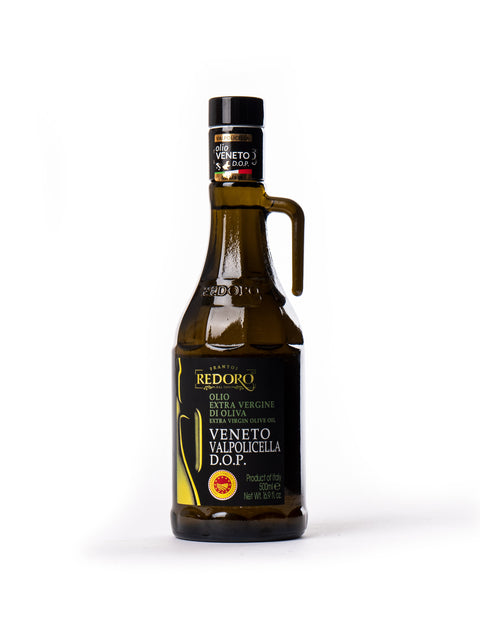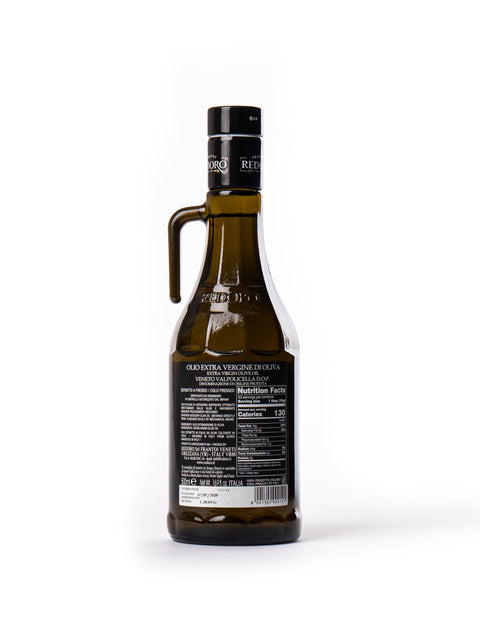 Redoro
Extra Virgin Olive Oil Veneto Valpolicella D.O.P. 16.9 Oz
$39.00
$42.00
you save $3.00
Key Product Features
Yellow in color with a slight shade of green for fresh oils, it has a balanced taste. On an aromatic level it has good intensity, devoid of defects, characterized by olive aromas accompanied by fresh vegetables followed by fruity hints, dried fruit, and spicy notes. It leaves an aftertaste of almonds and artichoke much appreciated by connoisseurs.
Ingredients

The Extra Virgin Olive Oil D.O.P. Veneto Valpolicella is obtained for at least 50% from Grignano and Favarol quality olives produced only in the area of ​​the Province of Verona included among the municipalities ranging from Brentino, S. Ambrogio di Valpolicella, Grezzana, Mezzane di Sotto, Montecchia.

The olives are harvested directly from the plant by hand or with combs. The olives are brought to the mill and processed on the day only with mechanical and physical processes (including maintaining the temperature below 30 ° during the whole process) to guarantee the obtaining of an oil without any alteration of the qualitative characteristics contained in the fruit.
Suggested Use
Ideal with barley soup, grilled red meat and baked fish.

Producer
Constituted in 1895 by founders: RE_gina and isi_DORO from which the name REDORO is derived. The Company of handicraft character is linked to tradition, but adapts dynamically to market developments. The passion and secrets to produce REDORO 100% Italian extra-virgin olive oil have been handed down from father to son for over 100 years, marking in the mid '90s, the switch from local production firm to a national and international company, that brings in every kitchen and on every table worldwide, the passion, the taste and the quality of REDORO's experience.
Despite the great success, the values that guide the company are the same as ancient times: quality, genuineness and love in every small gesture, from the cultivation of the olives, to hand picking until the transformation in extra-virgin oil or delicious products like paté or specialties in oil.
The familiar guide of the company is the most important strength of Salvagno's Family. It's suitable to preserve the tradition and quality of Veneto extra virgin olive oil and it confirms the excellence of the olive oil to give all guarantees to the consumers of the greatest care for the products: from harvest to olive selections, cold pressing and bottling.
Additional Informations
Our exclusive discount offers up to 70% off products that are approaching their expiration date. The higher the discount, the closer the expiration date may be. For more information about the expiration dates, please reach out to our customer support via chat or send an email to info@magnificofood.com.