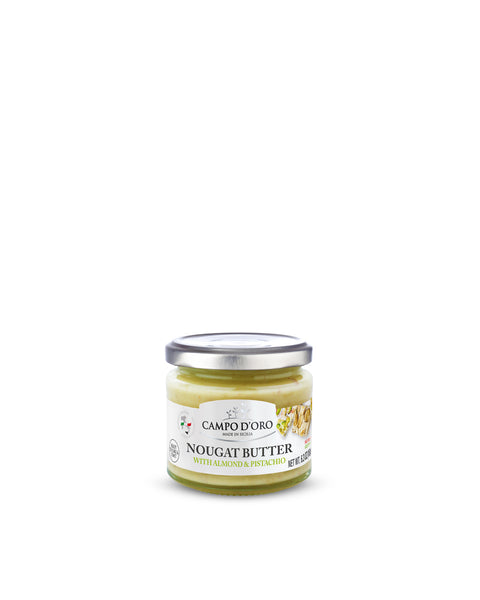 Campo d'Oro
Nougat Butter With Almond and Pistachio 6.34 Oz
Indulge in the delightful flavors of our Nougat Butter with Almond and Pistachio, a 6.34 Oz jar of pure nutty goodness. This delectable spread is a heavenly blend of roasted almonds, pistachios, and creamy nougat, crafted to perfection for an irresistibly rich taste.
Description
Made with the finest ingredients, our Nougat Butter is a versatile choice for spreading on toast, using as a dip, or adding to your favorite recipes. Whether you're creating a gourmet dessert or enjoying a simple snack, our Nougat Butter adds a touch of nutty excellence to your culinary creations. Savor the nutty delight - order Nougat Butter With Almond and Pistachio today and experience the taste of pure indulgence.
Ingredients
Sugar, vegetable oil and fats (sunflower, coconut, cocoa), nougat (almond, sugar, honey, glucose syrup, pistachio, egg white, vanilla aroma, potato starch, water), milk powder, whey powder, emulsifier: sunflower lecithin, aroma (vanillin).
CONTAINS: NUTS (ALMOND, PISTACHIO), EGG, MILK.
WITHOUT PALM OIL
Suggested Use
Nougat Sweet Cream is velvety in texture and can be used as part of an indulgent breakfast. Simply spread it over toast, or on biscuits, croissants, panettoni or use as part of a new cheesecake recipe, crepes or serve over ice cream.
Producer
For over 32 years the Campo d'Oro company has been producing a vast line of preserves, continuing and reinventing a family tradition that has been dedicated to the production of preserves for 2 generations.

Through innovative research and development processes Campo d'Oro tries to produce preserves with a high quality and territoriality, designed for a healthy and balanced diet with particular attention to the family, a natural lifestyle, and a balanced diet.
Constantly seeking care for Sicilian craftsmanship and tradition, and the freshness of the raw material, having an eye of respect for the environment and for society.
The company's Mission is the constant specialization in promoting the Sicilian culinary tradition in the most authentic and unique way possible, with deep conviction and great personality.

Campo d'Oro has opened a warehouse in Chicago to be closer to the various requests of our customers, in fact, the United States remains their reference market, without neglecting Europe and Asia.