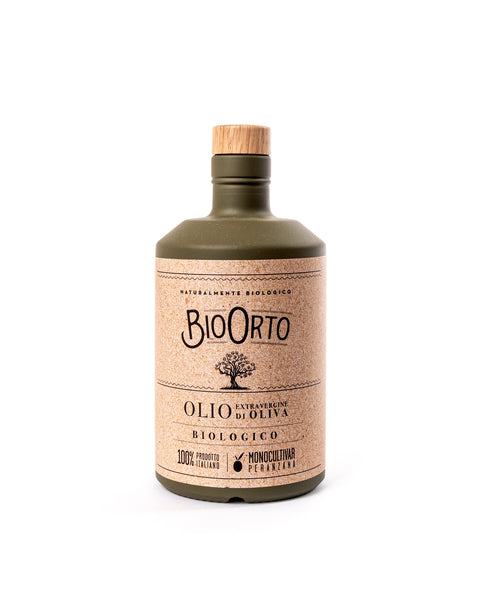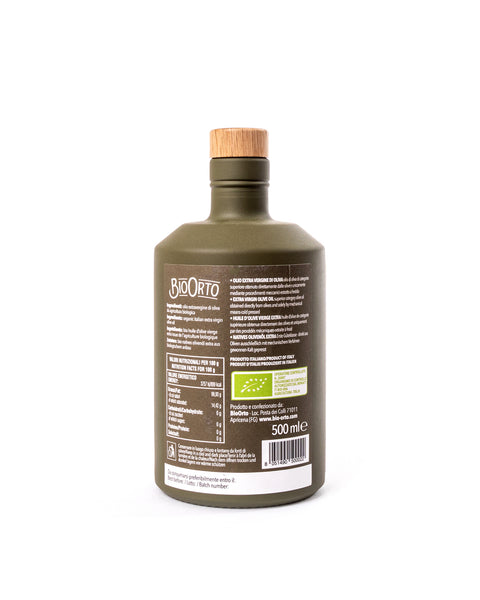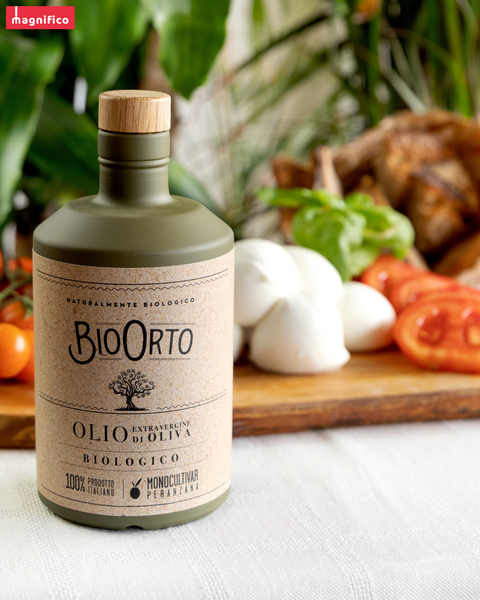 Bio Orto
Organic Extra Virgin Olive Oil Monocultivar Peranzana 16.90 Fl Oz
Key Product Features
Experience the exceptional elegance of this Organic Monocultivar Peranzana Extra Virgin Olive Oil. Made from the finest organic Peranzana olives, this oil is a true testament to the richness and quality of Italian olive oil production. With its distinct flavor profile characterized by fruity notes and a hint of peppery finish, this Monocultivar Peranzana oil is perfect for enhancing the taste of your favorite dishes
Description
This organic olive oil is from the Foggia area (Puglia) strikes a unique balance between bitter and spicy. The mild fruitiness and low acidity make this extra virgin olive oil one of the most sought-after varieties.

The Peranzana olive is an ancient variety. The tree cannot be farmed and only bears fruit in perfect conditions. The Peranzana monocultivar belongs among the 10 finest cultivars in the world, with its fruity aroma and hints of freshly cut grass, green herbs and wild flowers.


Ingredients
Superior category Italian Extra Virgin Olive Oil, obtained directly from olives and by cold extraction that allows the organoleptic characteristics of the extra virgin olive oil to remain unaltered, preserving all the properties of the olives, the amount of minerals, vitamins and antioxidant substances for the body.


Suggested Use
This aromatic extra virgin olive oil is ideal for cold use with grilled vegetables, tomato preparations, risotto's, fresh cheeses and vegetable marinades. Enjoy this emerald green, liquid gold in a glass retro bottle, which fits in any kitchen!


Producer
Bio Orto has mastered the art of promoting simple Italian products and bring them to U.S. tables. From planting to the final product, all stages of sowing, picking exclusively by hand, packaging and marketing are controlled by a company with a cottage industry approach but able to operate on a large scale.

Their fields, at the foot of the Gargano National Park, enjoy a special microclimate: aeration, mineral water that filters through the headland and through natural drainage, enrich the soil.

The cultivation of seasonal produce is constant, thanks to treatments and conservation provided by Hydro and Vacuum Cooler and by a rapid cooling tunnel. The deliberate choice of organic agriculture has been reinforced over time by an extreme attention to cultivation, from the field to the table, of fresh produce and olive oil and tomatoes for preservation in jars.

Current product certification and procedures, which enhance employees' wellbeing, are a sign of Bio Orto's commitment, which is evaluated by continuous direct checks and by its customers.