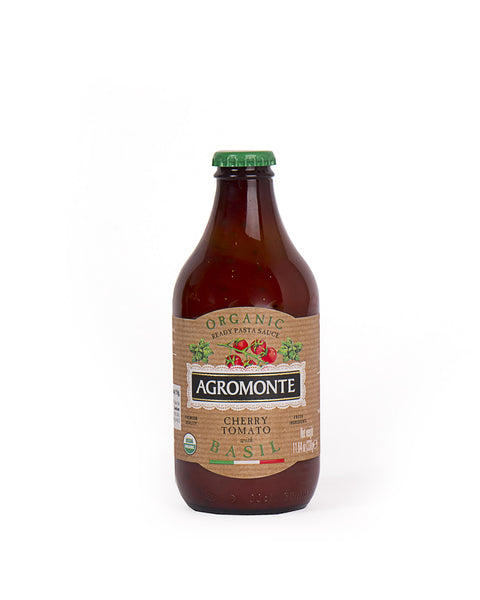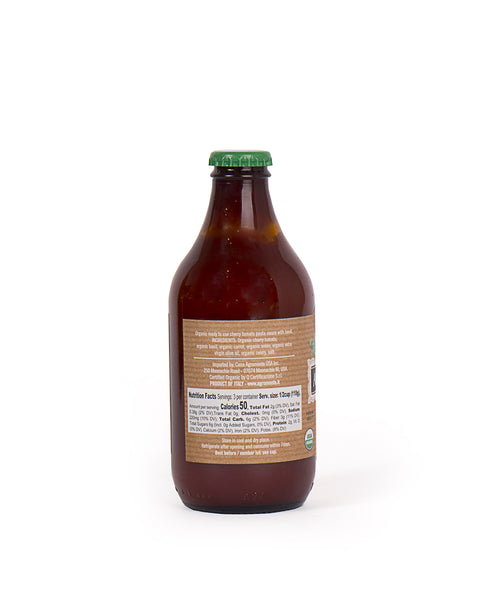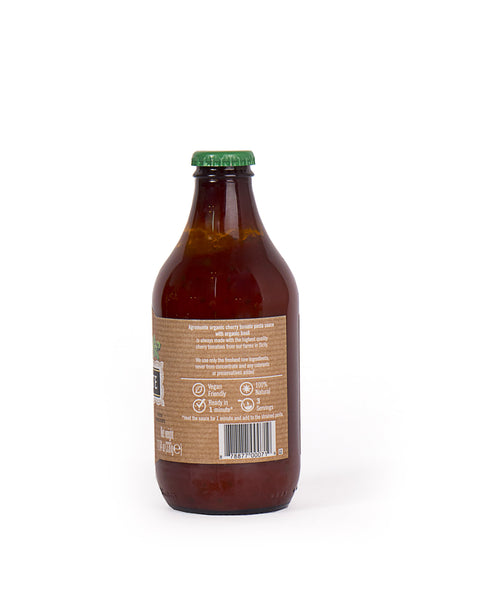 Agromonte
Organic Ready Cherry Tomato Pasta Sauce with Basil 11.64 Oz
$9.00
$10.00
you save $1.00
Key Product Features
Enjoy the taste of fresh, organic cherry tomatoes and basil in Agromonte's ready-to-use pasta sauce. Buy online now and savor the goodness of this delicious Italian sauce.
Description
Agromonte's Organic Ready to use Cherry Tomato pasta sauce with Basil is transformed by using natural processes with the best of ingredients cultivated only in the summer. The sauce combines the sweet taste of cherry tomatoes, grown and culminated in Sicily, with basil. Basil, thanks to its unique scent, is the most appreciated and aromatic plant in the kitchen. The blend of cherry tomatoes and basil is a trustworthy mix found in various pasta sauce recipes.

The products found in Agromonte's Or
Ingredients
Organic cherry tomato (82%), organic basil (4%), organic carrot, organic onion, organic extra virgin olive oil, organic celery salt.


Suggested Use
Perfect on pizza, pasta, or every recipe that need tomato sauce!


Producer
The Company Agricola Monterosso is located on the south eastern tip of Sicily, in one of the highest municipalities, called Chiaramonte Gulfi, with respect to sea level (approximately 700 meters) in the province of Ragusa. It is a modern company aware of how the quality of a product can be the key to success.

According to the different seasonal phases the company utilises from 25 to 150 employees. The daily production is thousands of units, created in various types of packaging: trays, jars of various sizes and bottles. The processing chain activities are based on the production of the raw material grown in greenhouses. It is carefully selected by experts to ensure high quality standards. With regard to quality, Società Agricola Monterosso implements a series of initiatives that involve a range of activities: from the choices of raw materials to communication with the final consumer.

It is carefully selected by experts to guarantee the high quality standard. Precisely on the quality front, the Monterosso Agricultural Society carries out a series of initiatives that involve every activity: from the choices of raw materials to dialogue with the final consumer.

The quality policy is reflected daily in the careful selection of raw materials available all year round thanks to cultivation in a protected environment.

Agromonte products are B.R.C. certified and I.F.S., moreover, the company implements a rigorous sanitary self-control plan, drawn up by our specialized technicians, and follows the HACCP system, as required by current EU regulations. In addition to products obtained from conventional agriculture, the company transforms products from organic farming under the REG. CE 837/07 E s.m.i
Additional Informations
Our exclusive discount offers up to 70% off products that are approaching their expiration date. The higher the discount, the closer the expiration date may be. For more information about the expiration dates, please reach out to our customer support via chat or send an email to info@magnificofood.com.