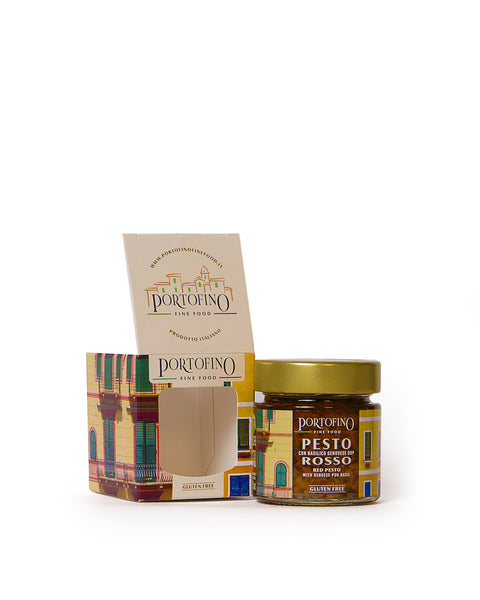 Portofino
Red Pesto with PDO Genoese basil 3.5 Oz
Key Product Features
Indulge in the rich, authentic flavors of Italy with Portofino's Red Pesto, crafted with the finest PDO Genovese basil.
Description
This pesto is a culinary masterpiece, capturing the essence of Italian tradition in every spoonful. Elevate your dishes with the vibrant taste of sun-drenched tomatoes, aromatic basil, and high-quality ingredients. Experience the true spirit of Italy with Portofino Red Pesto.
Ingredients
Sunflower oil, rehydrated dried tomatoes (21%), olive oil, Genoese basil PDO (10%), CASHEWS, MILK powder, vegetable fats (palm and sunflower), garlic, hot pepper, salt. acidifier: citric acid, antioxidant: ascorbic acid. GLUTEN FREE.

Contains: products derived from MILK and CASHEW NUTS. May contain NUTS and PEANUTS.


Suggested Use
Ideal as a condiment for pasta (2/3 portions); for the preparation of sandwiches, croutons and finger food.


Producer
Portofino Industrie Alimentari is an entirely new venture, situated in the heart of the Portofino National Park. It stems from the experience of a company specializing in Genovese Pesto production since 1981. Today, the Portofino product range embodies our passion for high-quality Italian culinary tradition.
Portofino is an enchanting place that can conjure an idea of absolute beauty and exclusivity in one's imagination. Portofino is not just a unique village in the world; it is an ICON OF STYLE, a symbol of those who know how to savor life's flavors to the fullest. Through our products, we want everyone - Italians and foreigners alike - to taste the emotion of Living Portofino.