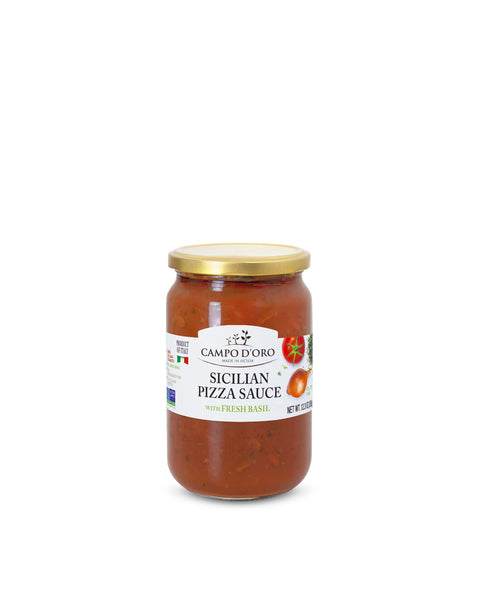 Campo d'Oro
Sicilian Pizza Sauce 12.3 Oz
Key Product Features
Elevate your homemade pizza with the exquisite flavors of our Sicilian Pizza Sauce, a 12.3 Oz jar of pure Mediterranean delight. Our sauce is a perfect blend of sun-ripened tomatoes, aromatic herbs, and a hint of garlic, crafted to bring the authentic taste of Sicily to your kitchen.
Description
Made with the finest ingredients, our Sicilian Pizza Sauce is a versatile choice for pizza, calzones, and more. Bring the essence of Sicilian cuisine to your favorite pizza recipes. Order Sicilian Pizza Sauce today and let your taste buds embark on a Mediterranean journey.
Ingredients
Tomato (sieved and chopped tomato) 87%, extra virgin olive oil, carrots, onions, basil, salt, garlic, oregano.
Suggested Use
This tomato sauce is full flavored and ideally served with a plate of pasta. It can be used to season pizza and to enhance the flavor of bruschetta.
Producer
For over 32 years the Campo d'Oro company has been producing a vast line of preserves, continuing and reinventing a family tradition that has been dedicated to the production of preserves for 2 generations.

Through innovative research and development processes Campo d'Oro tries to produce high quality preserves, designed for healthy and balanced diets with particular attention to traditions and a natural lifestyle.
The company always pays attention the tradition, the details and the freshness of the raw material, respecting people and the environment.

The Mission is the constant specialization in the promotion of the Sicilian culinary tradition with deep conviction and great personality, spreading the Sicilian Taste all over the world.