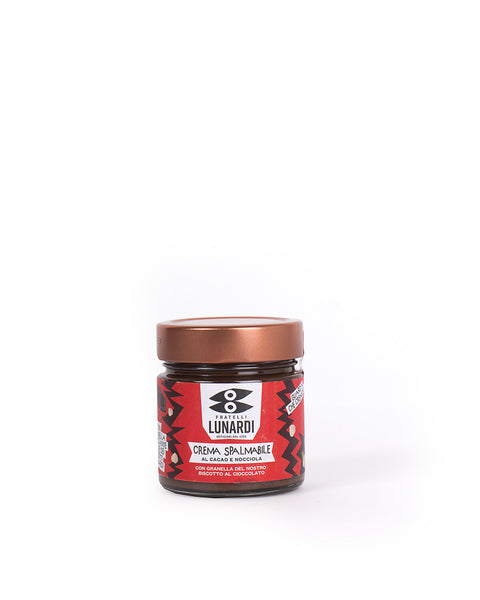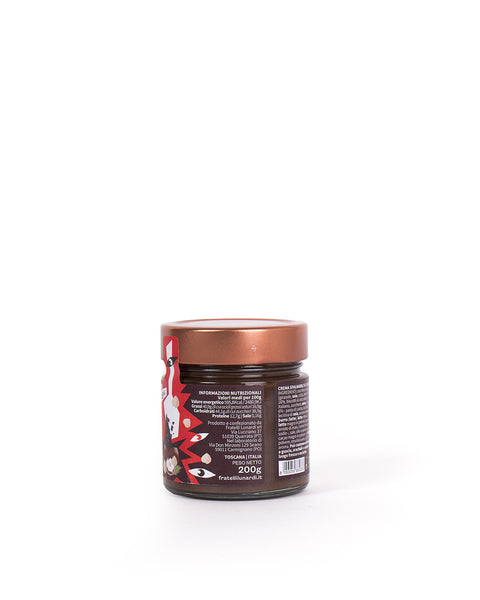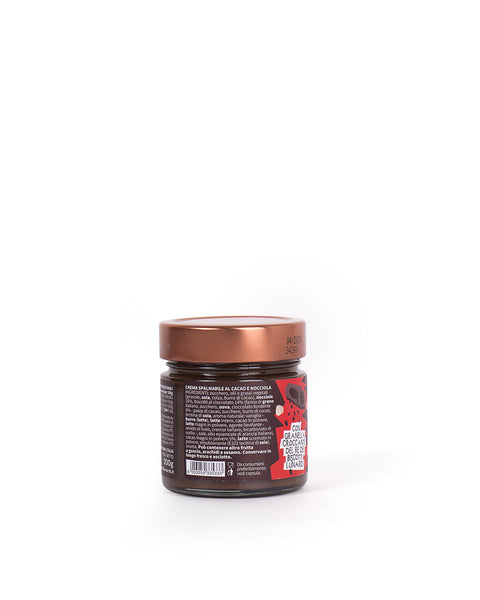 Fratelli Lunardi
Spreadable Cocoa & Hazelnut Cream with crumbled Chocolate Cantucci 7.05 Oz
$18.00
$21.00
you save $3.00
Fratelli Lunardi's delicious Spreadable Cocoa & Hazelnut Cream is paired with crumbled Chocolate Cantucci for the perfect combination of flavors and textures. Made with high-quality ingredients, this treat is sure to satisfy your sweet tooth. Perfect for enjoying on its own or as a topping for your favorite desserts.
Description
The creaminess and crunchiness of the spreadable cream of cocoa and hazelnut, rich in the very crunchy grains of "Fratelli Lunardi" chocolate biscuit. A tip for true gourmands? Try it alone with the spoon.
Ingredients
HAZELNUTS, sugar, vegetable fats, Lunardi chocolate cantucci 16%: (Italian WHEAT flour type 0, sugar, EGGS, dark chocolate min. 6% (cocoa mass, sugar, cocoa butter, emulsifier: SOY lecithin, natural flavor: vanilla), BUTTER (MILK), whole MILK, skim cocoa powder, skim MILK powder, yeast (disodium diphosphate, sodium carbonate, WHEAT starch), sea salt, essential oil of Italian orange) sunflower oil, skimmed MILK powder, low-fat cocoa, emulsifier: SOY lecithin, natural flavors. It may contain almonds, peanuts, walnuts, pistachios and sesame.
Suggested Use
Every time you feel like having a treat!
Producer
Fratelli Lunardi moved their first steps in their Italian bakery and food shop. This allowed them to learn how to create balanced delicacies, to interpret their favorite Tuscan recipes, to build relationship with their suppliers, to get in contact and interpret their customers' wishes, as well as to look further and dive into the national and international scene with high quality, artisan food.

One of the most traditional recipes of the Tuscan cuisine inspires their famous biscuits: Cantucci. They add a little bit of genuine butter to obtain a softer and tasty result. They knead, prepare elongated strips of dough and then bake in the oven. When they are ready, they taste them, share opinions and knead again. They have always a great time experimenting in their laboratory in Quarrata.

Hands are the secret of this company and Its most important treasure. Moreover, they add expertise, professionality and the dedication of the people who work with them in the belief that awareness and attention throughout the production process are essential ingredients for high quality artisan food. And they never forget love for the Italian Bakery!
People

During the years, Fratelli Lunardi have been growing continuously, investing in training and state-of-the-art equipment. However, the human factor and artisan approach make the difference in the whole production process. From the idea to processing, from packaging to shipping of products: they put the utmost care in what they do.
Environment

Environmental protection is an asset to this biscuit producer and they want to show it. Therefore, they use recyclable paper bags and 100% recycled paper boxes for their products. Every choice is made with mind and a beating heart.
Additional Informations
Our exclusive discount offers up to 70% off products that are approaching their expiration date. The higher the discount, the closer the expiration date may be. For more information about the expiration dates, please reach out to our customer support via chat or send an email to info@magnificofood.com.