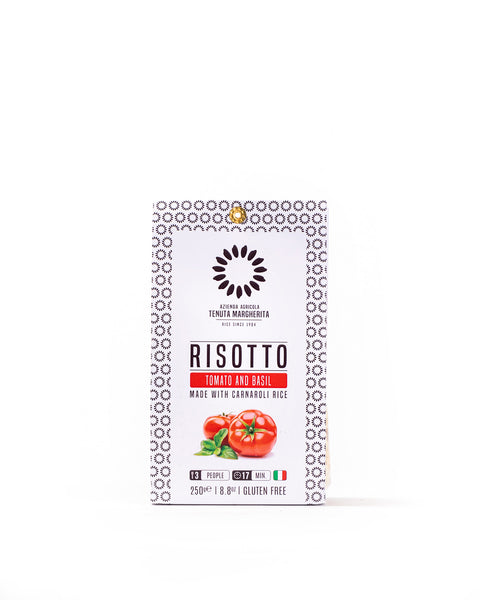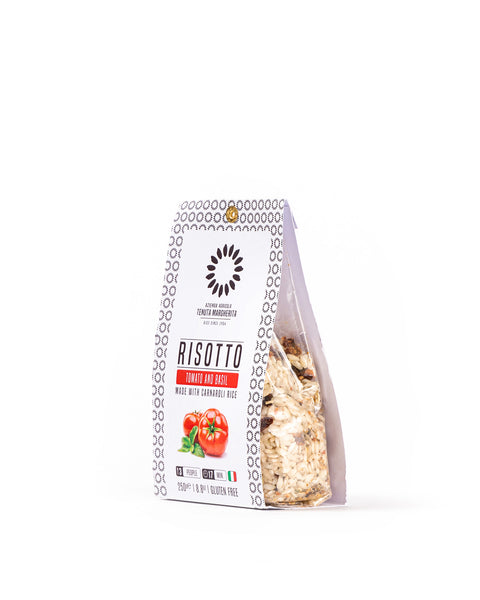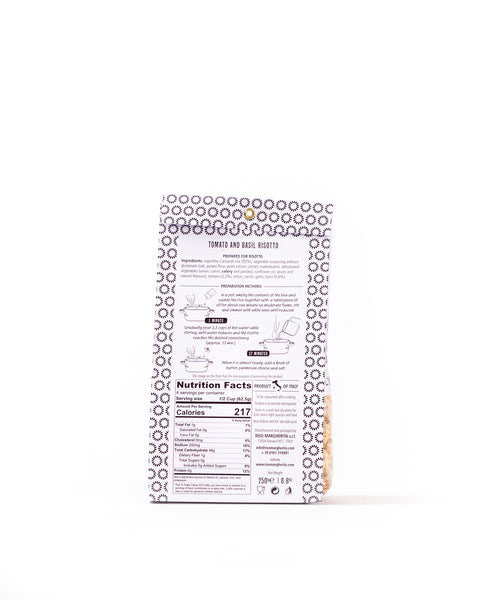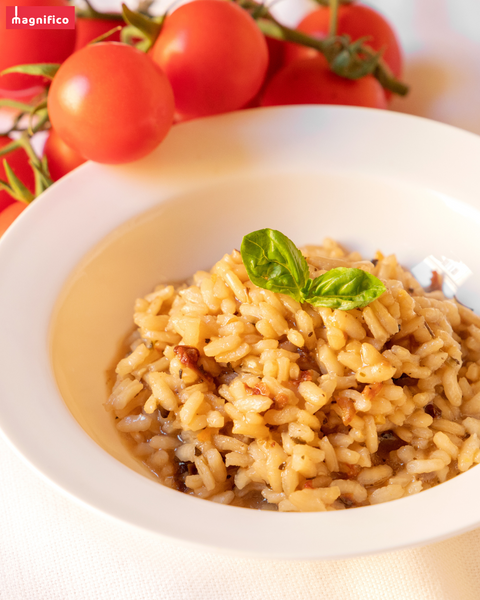 Tenuta Margherita
Tomato & Basil Risotto - Ready to Cook - 8.8 Oz
$13.00
$14.00
you save $1.00
Key Product Features
Enjoy the classic flavors of Italy with this Tomato & Basil Risotto. Made with high-quality ingredients such as Carnaroli rice, ripe tomatoes, and fresh basil, this risotto is a simple yet delicious meal. Ready to cook in just minutes, this Tomato & Basil Risotto is a convenient and flavorful option for a quick dinner.
Description
This simple risotto mix is absolutely delicious, healthy and simple to prepare. Made exclusively with Carnaroli rice milled by Tenuta Margherita in the capital of the Piedmont region of Italy.


Ingredients
Superfine Carnaroli rice (92%), vegetable seasoning without glutamate (salt, potato flour, yeast extract, potato maltodextrin, dehydrated vegetables (onion, carrot, celery and parsley), sunflower oil, spices and natural flavors), tomato 3.2%, onion, carrot, garlic, basil 0.6%.


Suggested Use
In a pot, empty the content of the box and sauté the rice together with a tablespoon of extra virgin olive oil for about one minute on moderate flame, stir and simmer with white wine until reduced.

Gradually pour about 3 cups of water while stirring, until water reduces and the risotto reaches the desired consistency (approx. 17 minutes).

When it is almost ready, add a knob of butter, parmesan cheese and salt.


Producer
Some stories have no boundary or age, and they are simply deep-rooted in history.
Our story starts very far back in the year 1904, when an idea and a few simple emotions find their home in a farmhouse, immersed in the Piedmont countryside.
This is where Tenuta Margherita was born.

Simple, like our constant and relentless pursuit of quality, show in our smallest gestures and in the attention we pay to every moment throughout the processing of our rice.
Unchanged like the emotions that, even after a hundred years, still characterize our work, from a freshly picked grain of rice to the pride of a mission that is devoted to excellence in all its forms.

It is at distant past, therefore, that our history starts, just as we are focusing on the years to come. The attention that we pay to to our traditions cannot distract our attention towards the future and the challenges that it will bring.
It is in the 300 hectares of land of Tenuta Margherita that Davide Brusa has seen the full potential to grow and bring our goals forward.
Additional Informations
Our exclusive discount offers up to 70% off products that are approaching their expiration date. The higher the discount, the closer the expiration date may be. For more information about the expiration dates, please reach out to our customer support via chat or send an email to info@magnificofood.com.