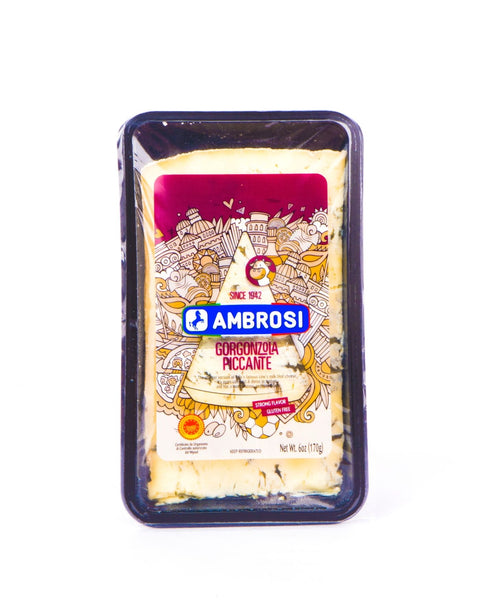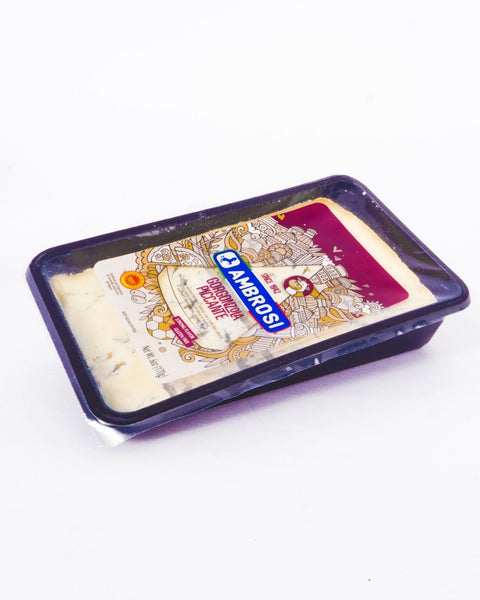 Ambrosi
Spicy Gorgonzola 6 Oz
$8.99
$9.99
you save $1.00
Key Product Features
Ambrosi's spicy Gorgonzola cheese is a delicious and bold Italian cheese with a spicy kick. Made with cow's milk and aged to perfection, this blue cheese is perfect for adding a spicy twist to your favorite recipes or enjoying on a cheese board.
Description
Gorgonzola is a white straw-yellow raw cheese. Its green streaks are due to the process of marbling, that is to the formation of mold. The spicy Gorgonzola has a stronger flavor and a more marbled paste than the sweet one.


Ingredients
Milk, salt, rennet, penicillium starter culture.
Suggested Use
Cheese time is... now! Eat spicy gorgonzola accompanied by some fresh bread or on your favorite dishes.


Producer
Ambrosi Group was born in 1942, from the young, far-sighted and visionary Luigi Ambrosi and his son Ottorino. Today, thanks to the quality products, the passion and its network, the company is the leader in Italy and abroad in the premium segment of the traditional Italian cheese market.

Quality, tradition and innovation represent the common thread at the base of Ambrosi's business.
Ambrosi produces, ages and sells Parmigiano Reggiano and Grana Padano, it produces and sells butter, mozzarella and other fresh cheeses and it also commercializes soft and semi-hard cheeses.


Additional Informations
Our exclusive discount offers up to 70% off products that are approaching their expiration date. The higher the discount, the closer the expiration date may be. For more information about the expiration dates, please reach out to our customer support via chat or send an email to info@magnificofood.com.