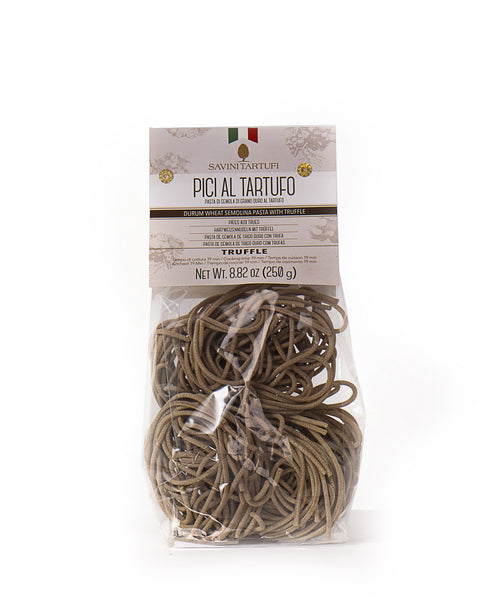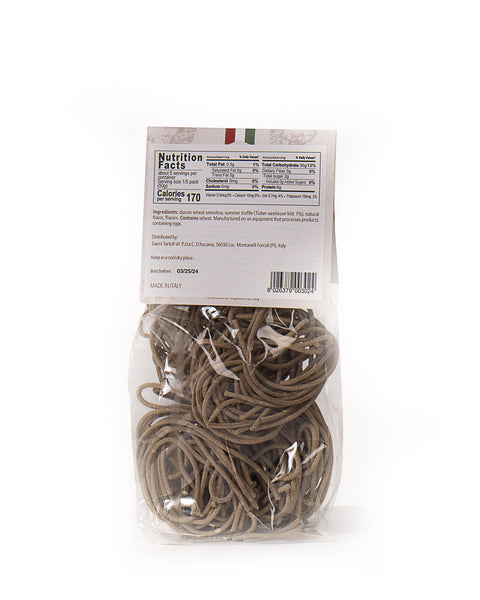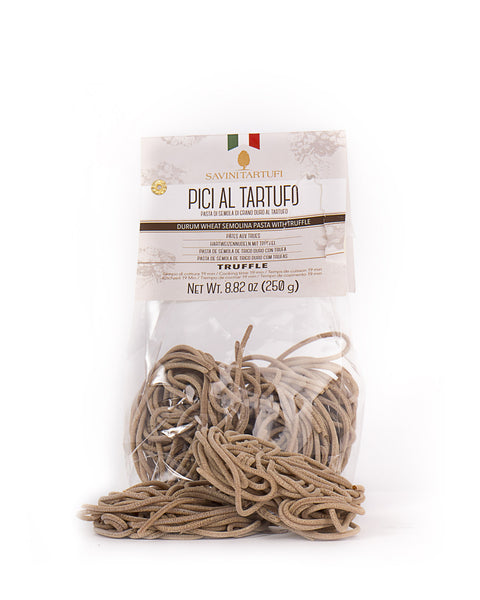 Savini Tartufi
Truffle Pici 8.82 Oz
$12.99
$15.99
you save $3.00
Key Product Features
Elevate your pasta game with this Truffle Pici. Made in Italy with high-quality durum wheat semolina and real truffle pieces, this pasta is a gourmet delight. The thick and chewy Pici is the perfect canvas for the rich and earthy flavors of truffle. Ready to cook in just minutes, this Truffle Pici is a convenient and impressive option for a dinner party or a special occasion.
Description
Durum wheat semolina pasta with truffle.
Ingredients
Durum wheat semolina, summer truffle, natural flavor.

May contain eggs.

Suggested Use
It's always pasta time! Express yourself and mix it/top it/season it with everything you like! We have a huge selection of sauces perfect to be combined with pasta, check our Recipe blog section for many pasta ideas!


Producer
The experience and competence gained over the years gives Savini the ability to generate a very high-quality wide range of products. The place of these preserved products is next to fresh and fragrant truffles, the result of our land: Tuscany. In these places, Savini has been dealing with truffles for 4 generations. Nowadays Savini is a modern company, an excellence of Made in Italy, looking to the future, firmly maintaining its values.

Savini is a family of truffle hunters that reaches back three generations. A family working with love and dedication to detail, who has been able to pass down its secrets from one generation to another. Nowadays everyone in Forcoli, even those with a different surname, have a touch of Savini.

Since 1920…tradition has been truffle hunting, the choice of the best fruits of the woods for famed chefs. Tradition in the recipes and in the secrets for storing truffles in the best way for its fans' most important occasions.
Additional Informations
Our exclusive discount offers up to 70% off products that are approaching their expiration date. The higher the discount, the closer the expiration date may be. For more information about the expiration dates, please reach out to our customer support via chat or send an email to info@magnificofood.com.