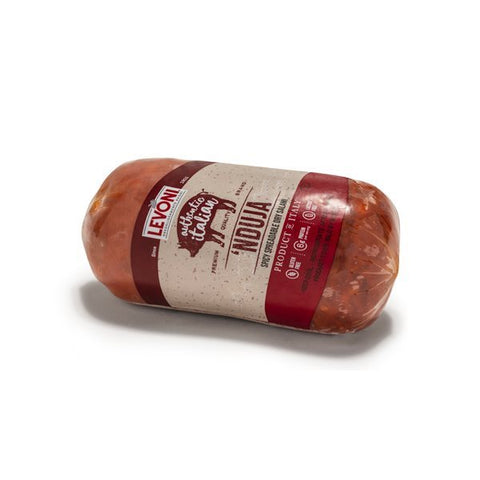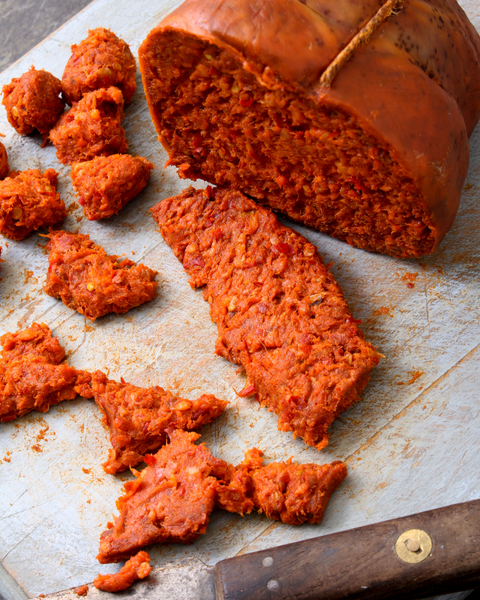 Levoni
NDUJA Spicy Spreadable Dry Salami 14 Oz
$19.99
$21.99
you save $2.00
If you have a passion for spiciness, savor this authentic Italian salami. Crafted using time-honored smoking techniques, it's an ideal addition to elevate your starters or aperitifs !
Description
Levoni reinterprets the traditional recipe, offering a dry salami characterized by a careful balance between lean and fatty cuts, that gives a soft, spreadable texture. The medium-grain meat and the even distribution of salt, spices, and chili pepper give the mixture an eye-catching orange-red color, and enrich its flavors and aromas.


Ingredients
Pigs born and bread in Italy. Italian pork meat, sea salt, spices, sugar, flavor(sunflower oil, chili pepper, garlic, coriander and nutmeg extract),sodium ascorbate, lactic acid started culture, sodium nitrite, potassium nitrite.


Suggested Use
Nduja, the spicy, spreadable cured meat from Calabria, Italy, is a versatile and flavorful ingredient that can enhance a variety of dishes. Here are some suggested uses for Nduja:

Spread on Toast or Crackers: Enjoy Nduja on a slice of toasted bread or crackers for a simple and tasty appetizer.

Pizza Topping: Add a spoonful of Nduja to your pizza for a burst of spicy flavor. It pairs well with other toppings like mushrooms, onions, or olives.

Pasta Sauce: Incorporate Nduja into your pasta sauce for a spicy kick. It can be blended into tomato sauce or added to a creamy Alfredo sauce.

Stir into Risotto: Stir a small amount of Nduja into your risotto during the cooking process to infuse the dish with its distinctive flavor.
Producer
For over a century, Levoni has been synonymous with top quality deli meats, delicious recipes that tell the whole tradition of Italian charcuterie.

The art of producing deli meats has been handed down in Levoni's family for four generations, and it's a responsibility that they continue to honor today.

All of their recipes stem from pigs born, bred and processed in Italy, and from premium quality meats that are carefully selected and processed. The use of spices - which make the most of their taste and extol their quality - bears witness to this company's respect for the raw materials.

Together with the greatest Italian flavorists, Levoni has developed the best mixtures of spices fully respecting the traditional recipes of the different Italian regions. The finest spices, their daily grinding and the use of the best natural flavorings are a key part of their creations of excellence.


Additional Informations
Our exclusive discount offers up to 70% off products that are approaching their expiration date. The higher the discount, the closer the expiration date may be. For more information about the expiration dates, please reach out to our customer support via chat or send an email to info@magnificofood.com.