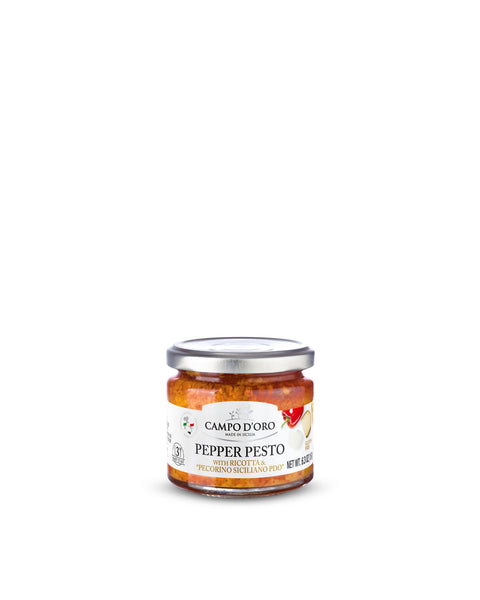 Campo d'Oro
Pepper & Ricotta Pesto With "Pecorino Siciliano PDO" 6.35 Oz
Pepper & Ricotta Pesto, featuring the exquisite 'Pecorino Siciliano PDO' is a culinary delight that transports your taste buds to the heart of Italy. Crafted with the finest ingredients, this pesto is a harmonious blend of robust flavors that will elevate your dining experience.
Description
This Pepper & Ricotta Pesto is a perfect fusion of spicy peppers, creamy ricotta, and the distinct 'Pecorino Siciliano PDO' cheese. The result is a tantalizing and unforgettable taste that adds depth to your dishes.
Ingredients
sweet peppers 40%, sunflower oil, tomato paste, ricotta cheese ( whey from MILK, sheep and goat MILK (min 10%), salt, acidity regulator: lactic acid) 6,5%, onion, "Pecorino Siciliano PDO" (MILK, rennet, salt) 2,5%, potato flakes, sugar, salt, oregano, hot pepper, acidity regulator: lactic acid.
Suggested Use
It is ideal for enhancing a delicious plate of pasta, pairing with stuffed chicken wrapped in pancetta, or simply spreading over bruschettas
Producer
For over 32 years the Campo d'Oro company has been producing a vast line of preserves, continuing and reinventing a family tradition that has been dedicated to the production of preserves for 2 generations.

Through innovative research and development processes Campo d'Oro tries to produce preserves with a high quality and territoriality, designed for a healthy and balanced diet with particular attention to the family, a natural lifestyle, and a balanced diet.
Constantly seeking care for Sicilian craftsmanship and tradition, and the freshness of the raw material, having an eye of respect for the environment and for society.
The company's Mission is the constant specialization in promoting the Sicilian culinary tradition in the most authentic and unique way possible, with deep conviction and great personality.

Campo d'Oro has opened a warehouse in Chicago to be closer to the various requests of our customers, in fact, the United States remains their reference market, without neglecting Europe and Asia.