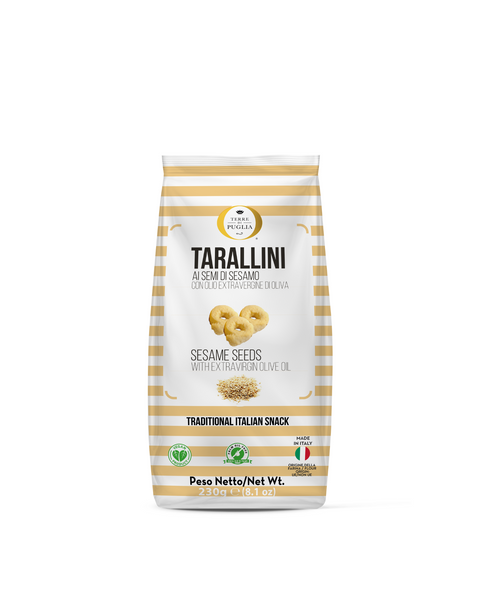 Terre di Puglia
Tarallini Sesame 8.1 Oz
Delight in the irresistible crunch of Terre di Puglia's Tarallini Sesame.  Made with the finest ingredients from the heart of Italy, these savory sesame snacks offer a taste of authentic Italian tradition.
Description
Sesame and tarallo. A winning combination in which the tradition of the Italian bakery product binds to the cuisine of the East. The flavor is surprising, crumbly and light, sesame taralli are the ideal snack for a light break.
Ingredients
wheat flour type ''00'', white wine, olive oil, extra virgin olive oil (5%), salt, sesame (1%), natural extract of olives.
ALLERGENS: gluten, sulphites and may contain traces of sesame.

Suggested Use
Well, Italians plonk them down on the table at every opportunity: Appetizers, charcuterie lunch, as an afternoon snack. Taralli are great if eaten with olives, cheeses and meats. They are the best accompaniment for a glass of white wine.


Producer
"We grew up making traditional Apulian recipes, a place as rich and varied as its dishes. Poor in appearance but rich of unique flavors, these dishes are made with simple ingredients. Our passion is to let you know this goodness."

Terre di Puglia produces traditional Italian products of high quality.

Quality and authenticity have always driven all the strategic decisions of the company, giving the chance to raise awareness of the best traditional products from Puglia in Italy and abroad.