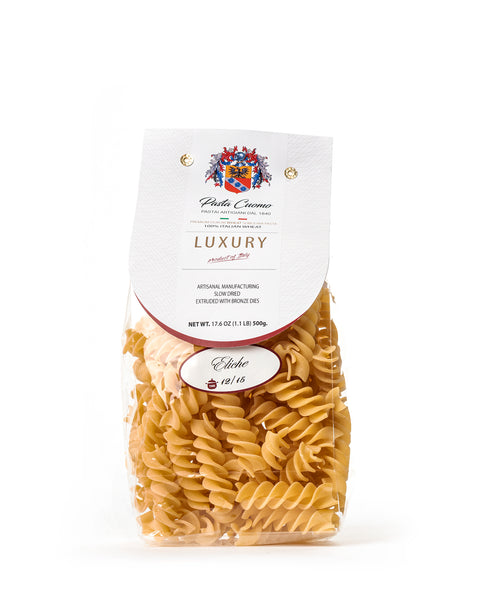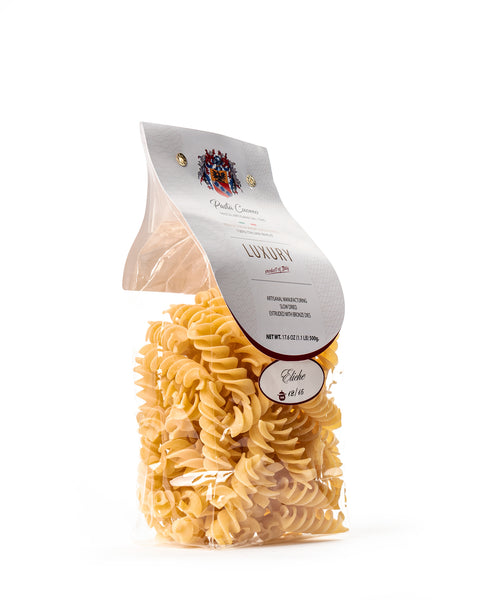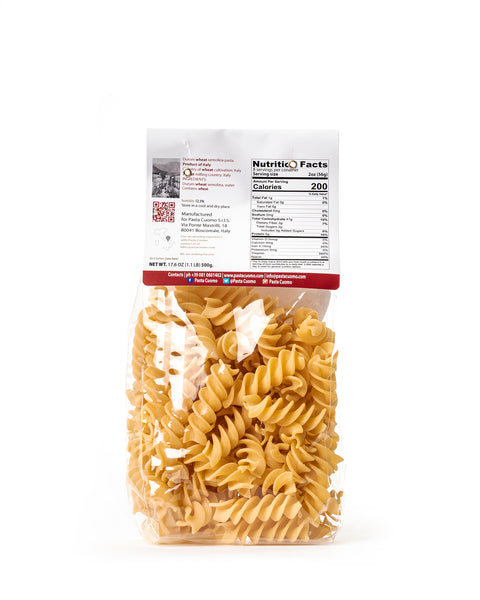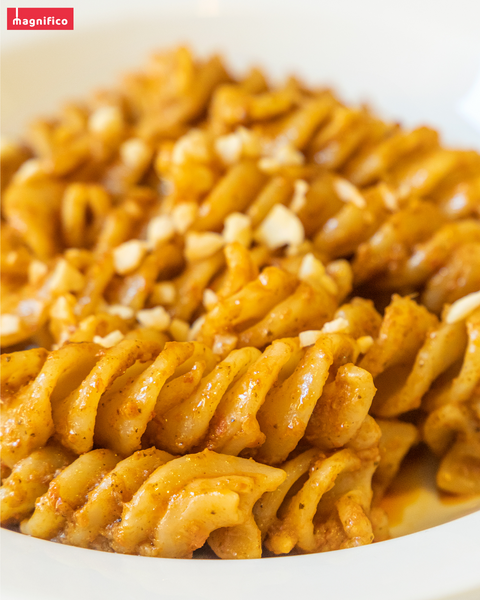 Pasta Cuomo
Eliche Pasta 17.6 Oz
Key Product Features
Experience the authentic taste of Italy with this Eliche pasta. Made using traditional Italian methods and high-quality durum wheat, this pasta is shaped like a spiral with a unique twisted shape that perfectly holds onto sauces and flavors. Whether you're making a classic Italian dish or trying something new, this Eliche pasta is the perfect choice for any pasta lover.
Description
Premium durum wheat semolina pasta, 100% product of Italy. Artisanal manufacture, slow dried, extruded with bronze dies.

Big Fusilli pasta.


Ingredients
Durum wheat semolina, water. Contains wheat.


Suggested Use
It's always pasta time! Express yourself and mix it/top it/season it with everything you like! We have a huge selection of sauces perfect to be combined with pasta, check our Recipe blog section for many pasta ideas!


Producer
In the heart of Gragnano, in the famous Via Roma, a place that once saw the pasta masters teaching the ancient art of "white gold" daily, is currently the headquarters of Pasta Cuomo. A company that breathes the air of history. A company that traces its roots in the 1840s, a time very old age but rich in experience .

In just around 1840 starts the story of Nicolino Cuomo, known in Gragnano for the production of bronze drawn pasta.

At the time Nicolino, already landowner, in order to increase the production and sale of macaroni, with his brother Crescenzo, bought new land including "the Fusara Mill" on the shores of the Vernotico river from the Marchioness Quiroga.

Following the tradition of Gragnano, Nicolino Cuomo used the old family palace, based in Via Roma, as a pasta factory with vertical production process: The PerfezionatoMulino e Stabilimento di Prim'Ordine Nicolino Cuomo.

The reason for the vertical arrangement of the pasta factory is due to safeguard the ancient and tested methods of hand-crafted production and to the typical division of roles– operator for kneading of dough, cutting, drying, packing- to ensure a Higher Quality Product.

Nowadays the activity is reborn with Mariano Cuomo and his sons, in the same old places.

He is the guardian of the family tradition that made perfection, the core business of our products and He's still the creator of pulp production from the prestigious flavor.

Yesterday as today "Excellence" is Pasta Cuomo's first rule!