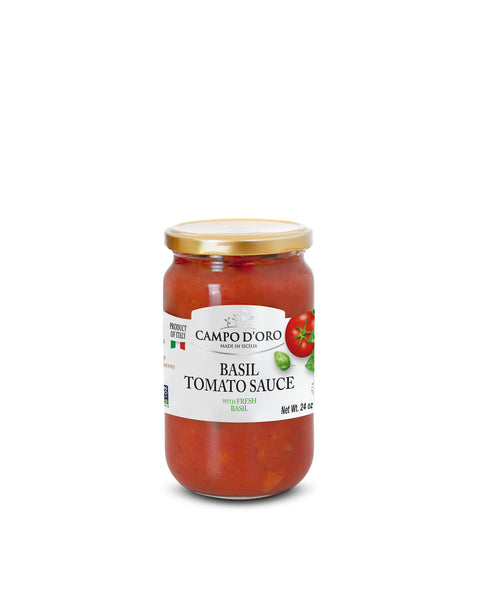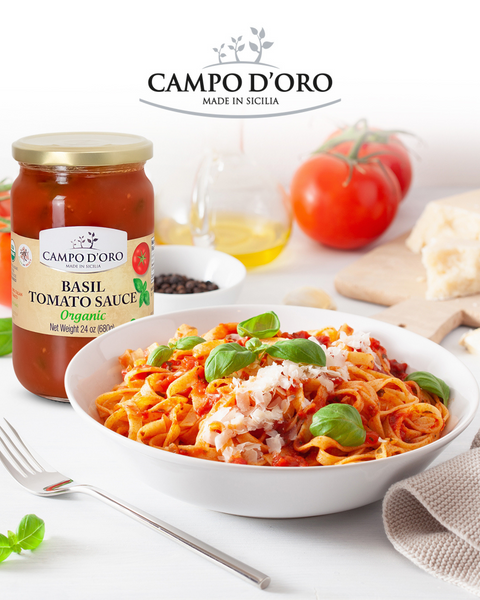 Campo d'Oro
Basil Tomato Sauce 24 Oz
Key Product Features
Experience the authentic taste of Italy with our Basil Tomato Sauce, a 24 Oz jar of pure culinary delight. This sauce is a perfect harmony of vine-ripened tomatoes and fragrant basil, creating a fresh and vibrant flavor that enhances your favorite dishes.
Description
Crafted with the finest ingredients, our Basil Tomato Sauce is a versatile choice for pasta, pizza, and more. Elevate your Italian-inspired meals with the freshness of basil. Order Basil Tomato Sauce today and let your taste buds revel in the essence of Mediterranean cuisine.
Ingredients
Tomato* (crushed*, sieved* and tomato paste*) 91%, extra virgin olive oil*, onions*, carrots*, basil* 1%, salt.
Suggested Use
Ideal for a good plate of pasta, or to create a tasty aubergines parmigiana.
Producer
For over 32 years the Campo d'Oro company has been producing a vast line of preserves, continuing and reinventing a family tradition that has been dedicated to the production of preserves for 2 generations.

Through innovative research and development processes Campo d'Oro tries to produce high quality preserves, designed for healthy and balanced diets with particular attention to traditions and a natural lifestyle.
The company always pays attention the tradition, the details and the freshness of the raw material, respecting people and the environment.

The Mission is the constant specialization in the promotion of the Sicilian culinary tradition with deep conviction and great personality, spreading the Sicilian Taste all over the world.