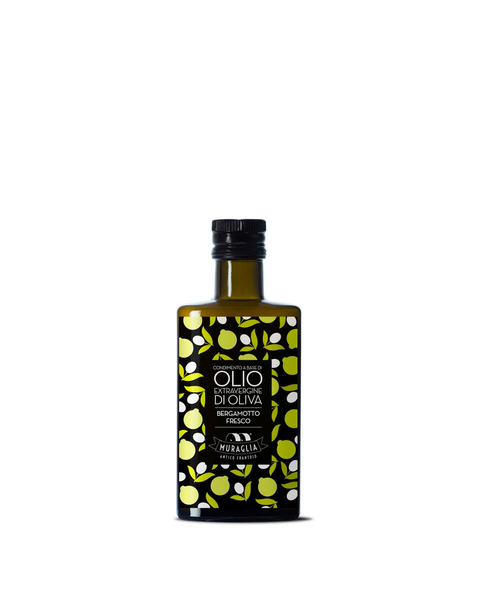 Frantoio Muraglia
Bergamotto Extra Virgin Olive Oil 6.76 Fl Oz
Key Product Features
Experience the exquisite fusion of Frantoio Muraglia's Extra Virgin Olive Oil and the vibrant essence of Bergamotto in a convenient 6.76 fl oz bottle. Bursting with zesty citrus notes, this unique olive oil is a culinary masterpiece that adds a refreshing twist to your dishes.
Description
Elevate your culinary creations with Frantoio Muraglia's Bergamotto Extra Virgin Olive Oil - a 6.76 fl oz bottle of Italian excellence. Unleash zesty, citrusy flavors in your cooking.
Ingredients
Italian Extra Virgin Olive Oil 90%, Bergamotto Flavoring


Suggested Use
It's perfect with fish dishes.


Producer
Frantoio Muraglia was born in Andria, capital of the Apulia oil region, five generations ago, but the real family patriarch has watched the seasons come and go for no fewer than 450 years – a majestic coratina olive-tree, a native cultivar whose wealth of polyphenols is almost unmatched among the 538 classified Italian varieties.

This company's history as oil producers begins with a green giant that stands tall over their olive groves – some 40 hectares in the uplands of Murgia. It was Savino Muraglia senior who bought this tree to press its olives for oil, defying all those who told him there was no fortune to be made from land and olives. As to who had the right of it, only time will tell!

One thing for certain is that our tenacious great great-grandfather – cross-grained or "stubborn as a mule", as they say in Apulia where people don't mince words – did it his way and launched the long history of an oil which is now on gourmet shelves in forty countries. But many things have remained utterly unchanged in all this time, beginning with their promise to preserve the biodiversity of the agricultural landscape and to protect the plants of strategic importance for our supply, such as the olive trees themselves.

Frantoio Muraglia still picks their olives by hand and presses them cold in the ancient stone press. Their goal is always to make the finest Italian extra virgin oil, absolutely without compromise.