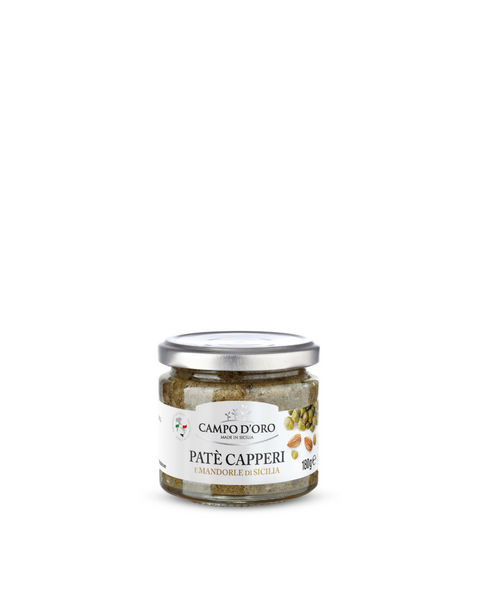 Campo d'Oro
Capers Patè 6.34 Oz
$7.99
$8.99
you save $1.00
Key Product Features
Want to impress your guests with a unique and flavorful appetizer? Try our Capers Paté! Made from the finest ingredients, our paté is bursting with flavor and perfect for spreading on crackers, bread, and more.
Description
Delicious paté created with capers and Sicilian almonds that give it a unique sweetness, ideal on toasted bread or to flavor roasts.
Ingredients
Capers 53%, sunflower oil, almonds 4%, salt, wine vinegar.
Suggested Use
Excellent on toasted bread bruschetta to flavor sauces, with pasta or simply on roasts.
Producer
For over 32 years the Campo d'Oro company has been producing a vast line of preserves, continuing and reinventing a family tradition that has been dedicated to the production of preserves for 2 generations.

Through innovative research and development processes Campo d'Oro tries to produce preserves with a high quality and territoriality, designed for a healthy and balanced diet with particular attention to the family, a natural lifestyle, and a balanced diet.
Constantly seeking care for Sicilian craftsmanship and tradition, and the freshness of the raw material, having an eye of respect for the environment and for society.
The company's Mission is the constant specialization in promoting the Sicilian culinary tradition in the most authentic and unique way possible, with deep conviction and great personality.

Campo d'Oro has opened a warehouse in Chicago to be closer to the various requests of our customers, in fact, the United States remains their reference market, without neglecting Europe and Asia.
Additional Informations
Our exclusive discount offers up to 70% off products that are approaching their expiration date. The higher the discount, the closer the expiration date may be. For more information about the expiration dates, please reach out to our customer support via chat or send an email to info@magnificofood.com.