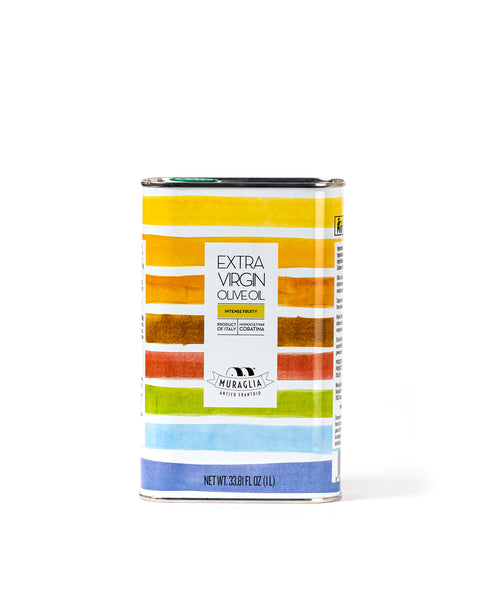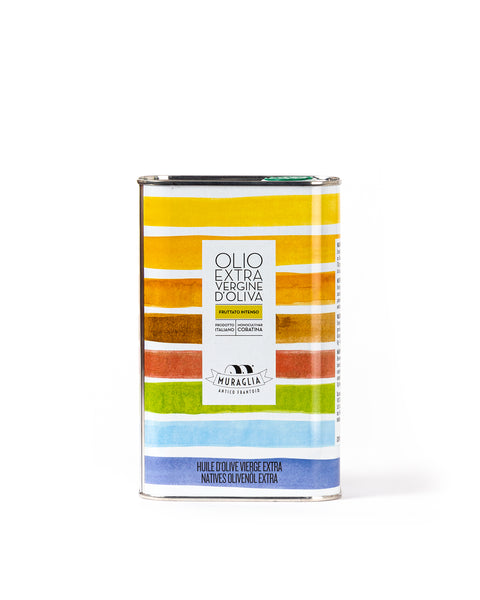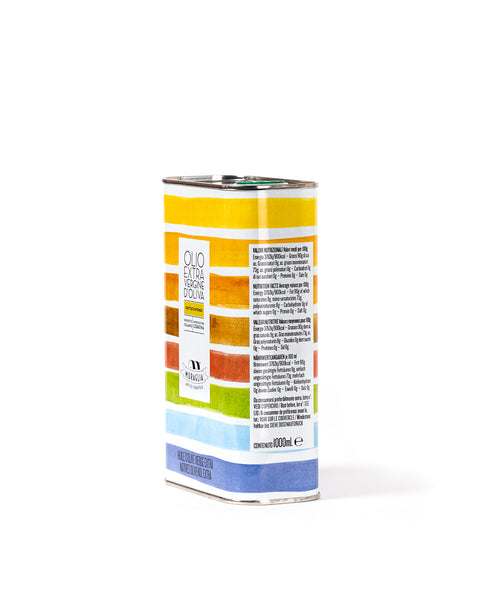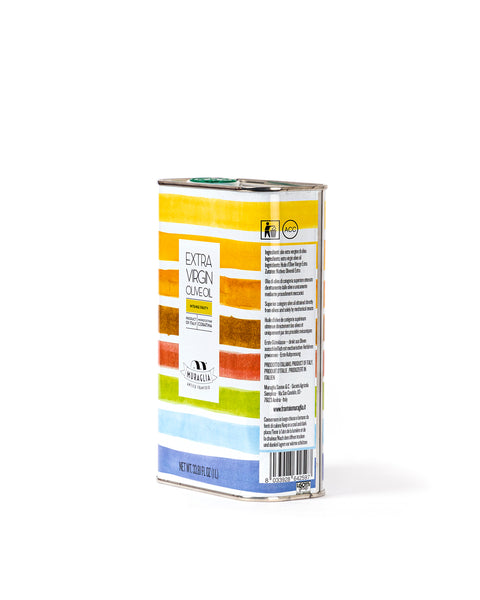 Frantoio Muraglia
Intense Extra Virgin olive Oil Rainbow Tin 33.81 Fl Oz
$44.99
$49.99
you save $5.00
Key Product Features
Discover this extra virgin olive oil's intense taste and the beautiful rainbow tin in which it's contained, perfect also as a gift. Discover the best EVOO selection you can find online on Magnificofood online store.
Description
A charming vintage tin for a generous supply of extra virgin olive oil.

This colorful outline encloses 1 liter of extra virgin olive oil made in Apulia.

For those who never want to be without a good extra virgin olive oil, this is the perfect convenient size. This way you will always have the most important condiment of the Mediterranean diet to hand.

Available in Intense Fruity.
Ingredients
Italian Extra Virgin Olive Oil.
Suggested Use
Perfect any time you need extra virgin olive oil!
Producer
Frantoio Muraglia was born in Andria, capital of the Apulia oil region, five generations ago, but the real family patriarch has watched the seasons come and go for no fewer than 450 years – a majestic coratina olive-tree, a native cultivar whose wealth of polyphenols is almost unmatched among the 538 classified Italian varieties.

This company's history as oil producers begins with a green giant that stands tall over their olive groves – some 40 hectares in the uplands of Murgia. It was Savino Muraglia senior who bought this tree to press its olives for oil, defying all those who told him there was no fortune to be made from land and olives. As to who had the right of it, only time will tell!

One thing for certain is that our tenacious great great-grandfather – cross-grained or "stubborn as a mule", as they say in Apulia where people don't mince words – did it his way and launched the long history of an oil which is now on gourmet shelves in forty countries. But many things have remained utterly unchanged in all this time, beginning with their promise to preserve the biodiversity of the agricultural landscape and to protect the plants of strategic importance for our supply, such as the olive trees themselves.

Frantoio Muraglia still pick their olives by hand and press them cold in the ancient stone press. Their goal is always to make the finest Italian extra virgin oil, absolutely without compromise.
Additional Informations
Our exclusive discount offers up to 70% off products that are approaching their expiration date. The higher the discount, the closer the expiration date may be. For more information about the expiration dates, please reach out to our customer support via chat or send an email to info@magnificofood.com.