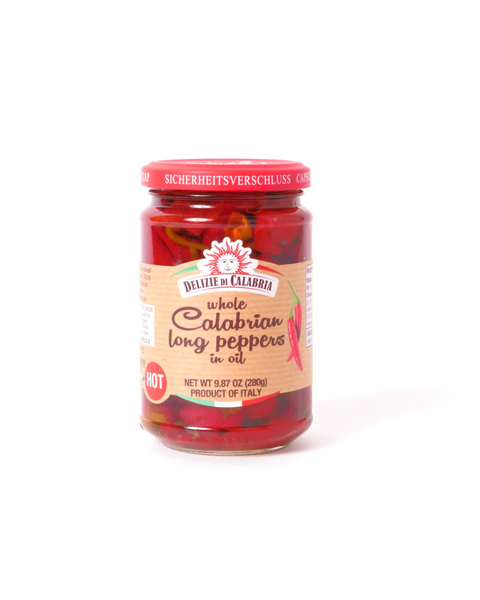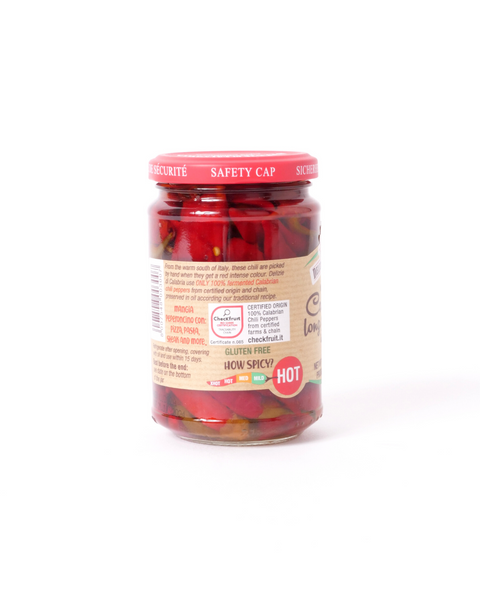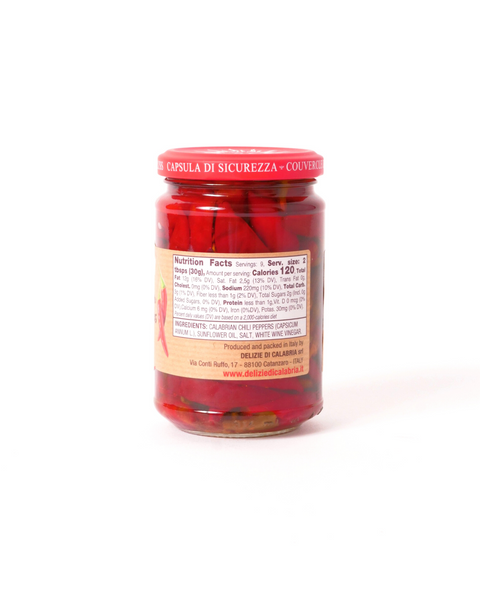 Delizie di Calabria
Long Chili Peppers 9.87 Oz
Key Product Features
Delizie di Calabria's long Calabrian chili peppers are the real deal when it comes to authentic Italian heat. Grown in the Calabria region of Italy, these peppers are famous for their rich, fruity flavor and moderate to high heat level. Perfect for adding a zesty kick to pasta, sauces, and more.
Description
Here it comes the best of Calabrian chili pepper preserved in oil that will satisfy even the most demanding consumers in terms of spicy heat.

Ingredients
Hot long peppers 57%, sunflower oil, salt, white wine vinegar.


Suggested Use
Spicy food lover? These are the ideal addiction to all you preparations!


Producer
This producer's story begins in a florid and welcoming land, located in the deep south of Italy. A region where the sun shines 300 days and warms the heart 365 days a year, capital of the ancient Magna Graecia. Its name is Calabria.

Calabria has the extraordinary ability to unite sea and mountains in a small handkerchief. The environment was so perfect that the Calabrian people necessarily had to be devoted to agriculture and the enhancement of its true treasure: the land.

Here the chili has found its ideal habitat, becoming the elective fruit of a rich and nutritious gastronomic culture, healthy and respectful of the principles of the Mediterranean Diet. Together with chili there are other tasty ingredients such as Tropea Red Onion, Olives, Dried Tomatoes, Bergamot and many others. Each ingredient finds space on the tables but also in the pantries, full of delicious preserves. In fact, it was the custom of grandmothers to prepare "preserves" in jars, so that the product was kept available all year round and in all its freshness.

Delizie di Calabria wants to be ambassadors of chili pepper and Calabrian food, in Italy and in the world. Mimmo Scalise has inherited a mission: to bring good and fiery Calabrian food to the table of every connoisseur of spicy foods.

The company was founded in 1989 and it's still proud to be family-run, engaged in the production of Calabrian chili and canned food.

What started out as a small artisan workshop located in the pretty town of Sersale, immersed in the enchanting setting of the Presila Catanzaro, is now a mature, evolved, larger and more aware company. The modern factory is located in Catanzaro and, despite its high technological value, it has remained committed to the original company values: respect for authenticity, enhancement of craftsmanship and constant pursuit of quality.