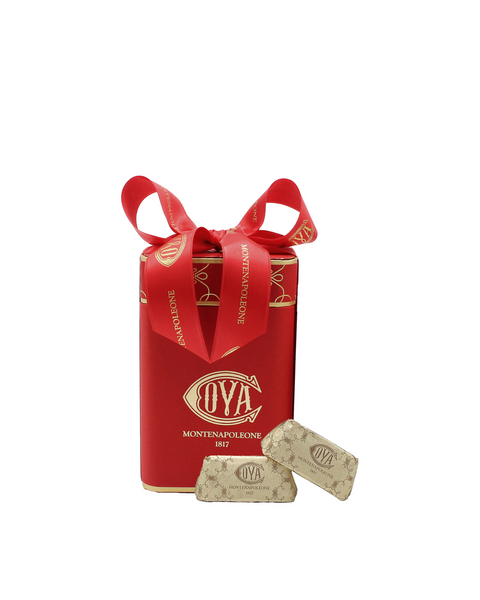 Cova
Luxury Gianduiotto in Red Box 5.30 Oz
Step into a world of opulence with our Luxury Gianduiotto elegantly presented in a stunning Red Box, featuring a lavish 17.60 Oz of Italian confectionery perfection by Pasticceria Cova. This Gianduiotto is a harmonious union of the finest gianduia chocolate and sumptuous hazelnuts, offering an unparalleled taste of indulgence.
Description
Small chocolate bullion-shaped creations, whose geometrical shape is easily recognizable, Gianduiotti typically originate from Piedmont, where their hazelnuts IGP are grown (they correspond to 30% of the composition).
Gianduiotti were born as a dedication to Carnival's Turin mask "Gianduja" in 1865: Master Pastry Chefs found the perfect soft and melting-in-the-mouth mix between chocolate and local hazeluts. One of the longer standing symbols of Cova's tradition, with a very distinctive taste,


Ingredients
sugar, hazelnuts (30%), cocoa mass, cocoa butter, emulsifier: soya lecithin E322, natural vanilla flavouring, cocoa solids 23% min.

Allergy information: contains hazelnuts and soya. May contain traces of other nuts and milk.



Keep in a cool and dry place at a constant temperature.

Suggested Use
Whenever you feel like having a piece!

At Christmas Eve and Christmas Day is definitely a must after dinner or before relaxing.


Producer
Cova is one of Italy's oldest Pasticceria and an international destination. Celebrated for its product excellence, impeccable service and fascinating interiors, Cova is an institution that exalts tailored craftsmanship and creativity.