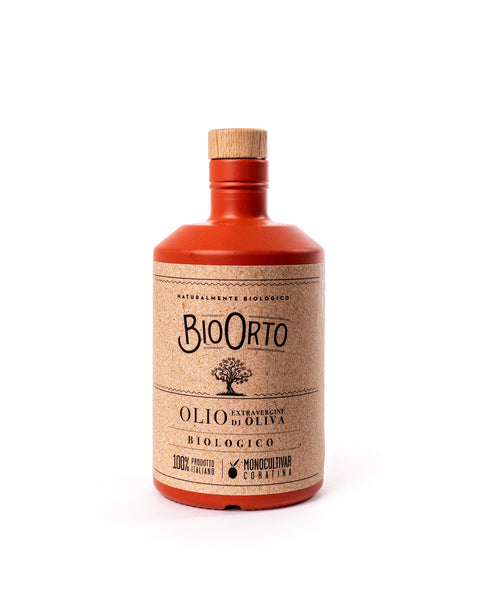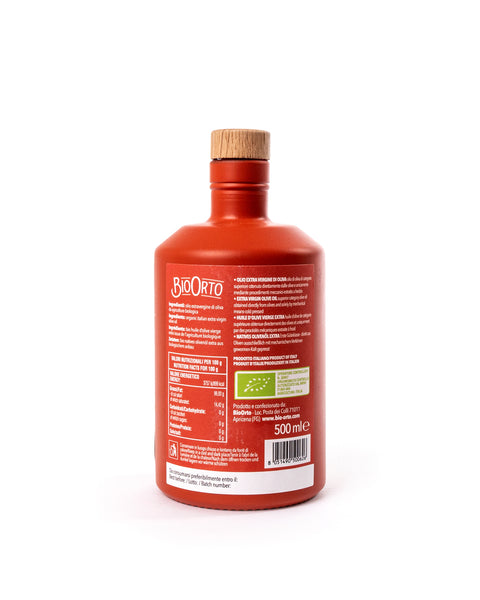 Bio Orto
Organic Extra Virgin Olive Oil Monocultivar Coratina 16.90 Fl Oz
Key Product Features
Immerse yourself in the robust intensity of this Organic Monocultivar Coratina Extra Virgin Olive Oil. Carefully crafted from the finest organic Coratina olives, this oil is a true expression of Italian excellence. With its bold and peppery flavor profile, this Monocultivar Coratina oil adds a distinctive kick to your culinary creations.
Description
The Bio Orto organic monocultivar Coratina extra virgin olive oil is loaded with polyphenols, which means it has a taste with a marked bitter and spicy note and an intense fruity tone. This is the epitome of Apulian cultivars: an evo oil with a brilliant personality , a fine and characteristic taste, with a vegetal aroma. Ideal for use raw, especially for adding to legume soups, salads and bruschetta


Ingredients
Superior category Italian Extra Virgin Olive Oil, obtained directly from olives and by cold extraction that allows the organoleptic characteristics of the extra virgin olive oil to remain unaltered, preserving all the properties of the olives, the amount of minerals, vitamins and antioxidant substances for the body.


Suggested Use
Healthy and Tasty, Extra Virgin Olive Oil is a must for Italian cuisine, it can be used for everything.


Producer
Bio Orto has mastered the art of promoting simple Italian products and bring them to U.S. tables. From planting to the final product, all stages of sowing, picking exclusively by hand, packaging and marketing are controlled by a company with a cottage industry approach but able to operate on a large scale.

Their fields, at the foot of the Gargano National Park, enjoy a special microclimate: aeration, mineral water that filters through the headland and through natural drainage, enrich the soil.

The cultivation of seasonal produce is constant, thanks to treatments and conservation provided by Hydro and Vacuum Cooler and by a rapid cooling tunnel. The deliberate choice of organic agriculture has been reinforced over time by an extreme attention to cultivation, from the field to the table, of fresh produce and olive oil and tomatoes for preservation in jars.

Current product certification and procedures, which enhance employees' wellbeing, are a sign of Bio Orto's commitment, which is evaluated by continuous direct checks and by its customers.