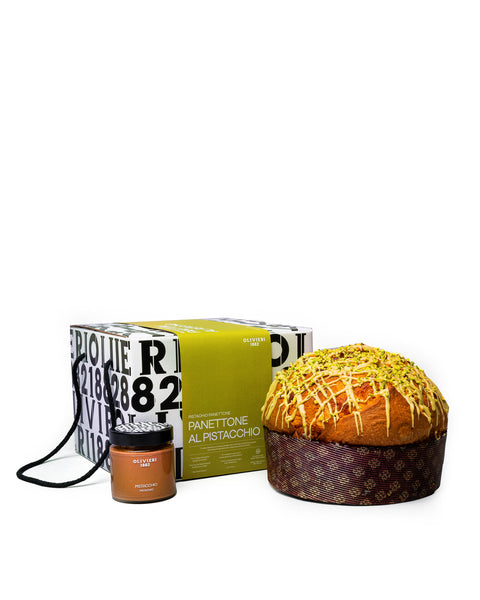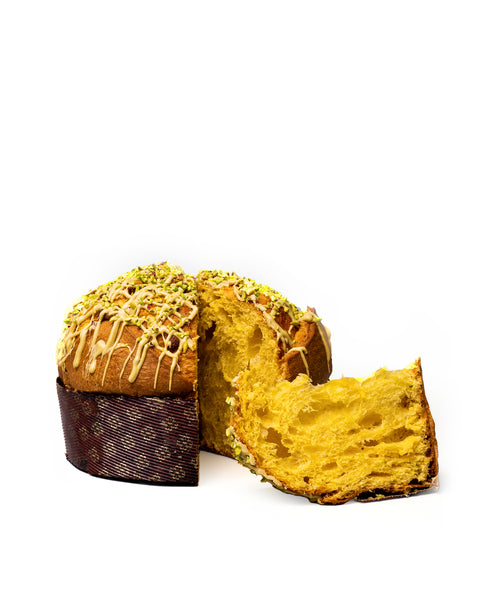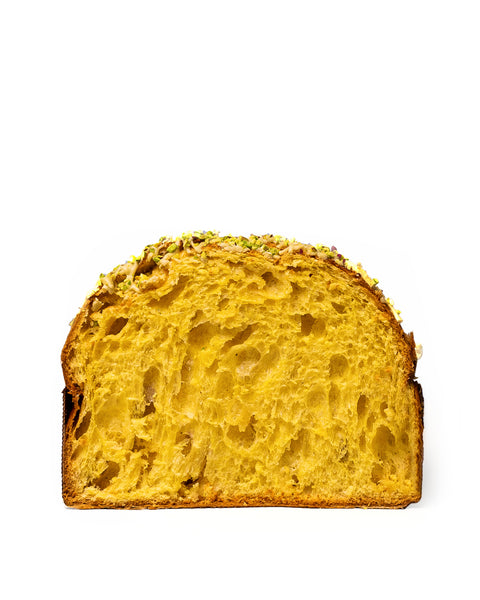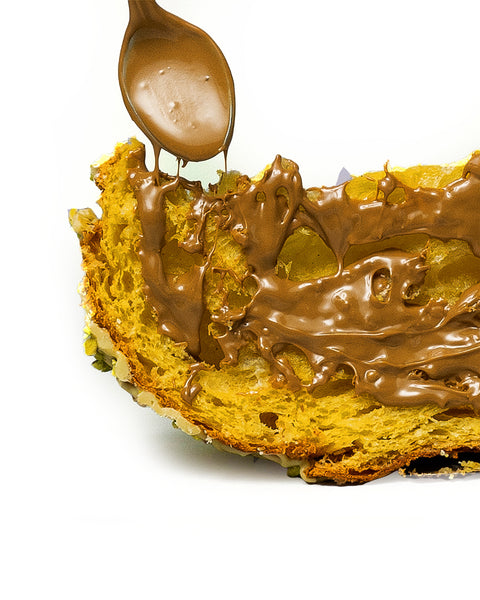 Olivieri 1882
Pistachio Panettone 35.2 Oz - Olivieri 1882
Great news! For this product shipping is on us!
Elevate your taste experience with our Pistachio Panettone 26.45 Oz by Olivieri 1882. This luxurious twist on the classic Italian holiday cake is a true masterpiece that exemplifies the art of artisanal confectionery.
Description
The soft and airy texture of this Pistachio Panettone is the product of a 100% natural fermentation technique and a meticulous baking process. The infusion of pistachio lends it an irresistible nutty aroma and taste that's perfect for festive celebrations, gifting, or simply savoring a slice with your favorite coffee or wine.
Ingredients
Baked with natural leavening, white chocolate, and pistachio cream, without candied citrus peel or raisins - 750g (26.45 oz / 1.65 lbs) ℮ Ingredients: Type 00 wheat flour*, white chocolate 20% (13.5%) (sugar, cocoa butter, whole milk* powder, whey* powder, emulsifier: soy lecithin*, natural vanilla extract), butter*, category A egg yolk*, sugar, sourdough (type 00 wheat flour*, water), water, milk*, acacia honey, cream*, salt, cornstarch, Madagascar Bourbon vanilla. Pistachio spread - 200g (7.05 oz / 0.44lbs) (pistachio*, sugar, whole milk* powder, whey* powder, sunflower oil, coconut oil, cocoa butter, extra virgin olive oil, emulsifier.
Suggested Use
Enjoy Pistachio Panettone in its purest form by slicing it and serving it with a cup of espresso, cappuccino, or your favorite hot beverage.

30 minutes before serving, gently warm it close to a heat source to best enjoy the soft texture and enhance the balance of aromas and flavors. 10/12 servings per container.

Preservation Instruction:
Store in a cool, dry place, with a maximum temperature of 73.4°F (23°C). Keep away from direct sunlight and prevent exposure to sudden temperature fluctuations. Do not refrigerate. The product has an approximate shelf life of 40 days. Once opened, the product remains fresh for up to one week. Always remember to securely seal the plastic sack after opening.
Producer
Olivieri 1882 is a renowned producer with a rich heritage deeply rooted in the heart of Italy. Established in the year 1882, the company has a legacy that spans over a century, making it a symbol of tradition and excellence in the culinary world. Known for their commitment to quality and a dedication to preserving the authentic flavors of Italian cuisine, Olivieri 1882 has become a household name for those who appreciate the finest in food and confectionery.

Olivieri 1882's signature offerings often include classics like Pandoro and Panettone, two iconic Italian holiday cakes, both cherished for their rich history and exquisite taste. These delicacies are masterfully created, ensuring that they maintain their authenticity and irresistible flavors.

Furthermore, Olivieri 1882's dedication to preserving the environment and promoting sustainable practices is commendable. Their commitment to natural fermentation techniques and high-quality raw materials underscores their responsibility towards both customers and the planet.