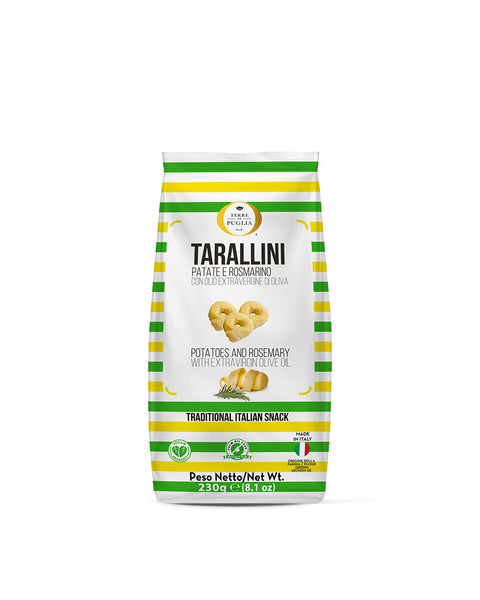 Terre di Puglia
Tarallini Potatoes and Rosemary 8.1 Oz
Key Product Features
Discover the savory delights of these Tarallini Potatoes and Rosemary. Crafted with the finest ingredients, these crispy and flavorful Italian snacks are a true culinary delight. Made with real potatoes and infused with aromatic rosemary, each bite offers a harmonious blend of savory and fragrant notes.
Description
Do you love rich flavors? Taralli with potatoes and rosemary are just the thing for you. Irresistible.


Ingredients
wheat flour type " 00 ", white wine, high oleic sunflower oil, extra virgin olive oil, 1%, salt, potatoes and rosemary mixture 1.2% (potato, rosemary, monosodium glutamate, starch, sea salt, garlic, turmeric, pepper, porcini mushroom [boletus edulis], nutmeg, baking powder, natural flavors and spices).


Suggested Use
Well, Italians plonk them down on the table at every opportunity: Appetizers, charcuterie, lunch, as an afternoon snack. Taralli are great if eaten with olives, cheeses and meats. They are the best accompaniment for a glass of white wine.


Producer
"We grew up making traditional Apulian recipes, a place as rich and varied as its dishes. Poor in appearance but rich of unique flavors, these dishes are made with simple ingredients. Our passion is to let you know this goodness."

Terre di Puglia produces traditional Italian products of high quality.

Quality and authenticity have always driven all the strategic decisions of the company, giving the chance to raise awareness of the best traditional products from Puglia in Italy and abroad.