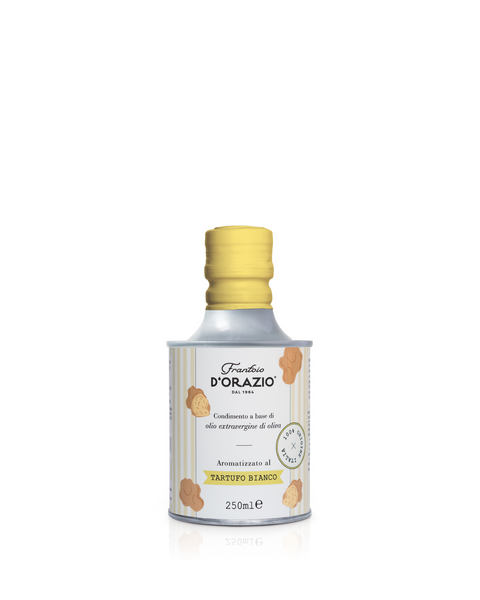 Frantoio D'Orazio
Truffle Extra Virgin Olive Oil 8.5 Fl Oz
Key Product Features
Elevate your culinary creations with the exquisite flavor of Truffle Extra Virgin Olive Oil, presented in an 8.5 Fl Oz bottle and passionately crafted by the renowned producer, Frantoio D'Orazio. This premium olive oil infuses your dishes with the luxurious and earthy aroma of truffles, enhancing their flavors with a touch of gourmet elegance.
Description
This Extra Virgin Olive Oil is made from a natural blend with the intense aroma and flavor of the king of truffles, the most precious and sought after, the white truffle. A condiment that imparts character to every dish, satisfying even the most discerning palates.
Ingredients
Extra Virgin Olive Oil, natural truffle flavoring
Suggested Use
Highly versatile. Appetizers and starters, First courses, Second courses, Pizza condiment.

Producer
Frantoio D'Orazio is surrounded by centuries-old olive trees and even more ancient peasant traditions. It's a place where the ancient ritual of extracting extra virgin olive oil has been carried out for three generations now. Francesco, like his uncle Peppino and his grandfather before him, carries on the family tradition with dedication to beauty and authentic goodness, in a land where time passes slowly. In a world where nature determines the rhythm of rural life, the annual ritual of harvesting olives is celebrated. Whether they're green, black, small, or large, today, as in the past, we harvest these precious fruits from our countryside with the same dedication and passion for all things good and genuine. The olives we select and process become the premium extra virgin olive oil that offers unforgettable moments of pleasure for the palate.