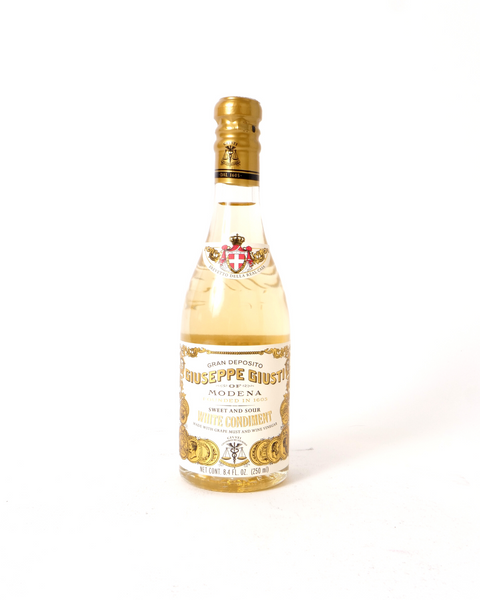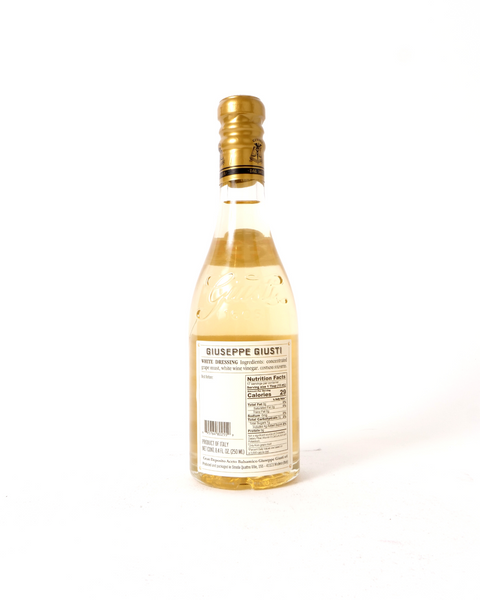 Giuseppe Giusti
White Condiment Vinegar of Modena 8.4 FL. Oz.
$19.99
$21.99
you save $2.00
Key Product Features
Made from Trebbiano grapes and aged in oak barrels, Giuseppe Giusti White Condiment Vinegar of Modena is a versatile and delicious addition to your kitchen. With a crisp and clean taste, this vinegar is perfect for dressings, marinades, and sauces.
Description
The White Giusti condiment is a particularly sweet juice from a process of a delicate pressing of Trebbiano grapes. This is then combined with high quality white vinegars and aged in French oak and ash wooden casks. This process keeps all the fruity and floral aromas of the grapes, creating a condiment of contrasting low acidity and the notes of sweet, yellow fruits and dried citrus.
Ingredients
Concentrated grape must, white wine vinegar.
Suggested Use
Your perfect companion with salad, fruit, cheese, meat, sandwiches and fish.

Fresh and balanced, it is extremely versatile and easy to use. Aged in French oak and ash wooden barrels
Producer
Giusti is the oldest producer of Balsamic Vinegar of Modena, founded in 1605 with a solid history of quality awards: including fourteen gold medals and earned the privilege of displaying the Royal Seal of Approval granted by the King of Italy Vittorio Emanuele III in 1929 that is still incorporated on all Giusti Balsamic Vinegars.
Additional Informations
Our exclusive discount offers up to 70% off products that are approaching their expiration date. The higher the discount, the closer the expiration date may be. For more information about the expiration dates, please reach out to our customer support via chat or send an email to info@magnificofood.com.